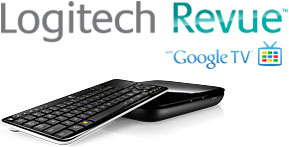 I really want to like GoogleTV.  And I really want to like Logitech.  But something was just not right in today's announcement of the $300 Logitech Revue, the first product based on GoogleTV.
Maybe it was because Logitech was more proud of its Harmony universal remote integration in the new settop box than all the Google integration.
Maybe it was because it pretty much looks like you'll need a keyboard for GoogleTV – and lets face it, keyboards just don't belong in the living room.
Maybe it was because you could buy 4 Roku boxes or 3 Apple TVs for the price of a single Logitech Revue
Maybe it was because Dish Network wants to charge its subscribers $4 a month to let the Revue search its DVR database.
Maybe it was because web pages just don't look good on TV – even those built to support TV shows like Top Gear.
Maybe it was because after seeing Cisco's telepresence announcement earlier in the day I was jaded by the inferior (yet dramatically less-expensive) teleconferencing capabilities.
Maybe it was because they announced a core set of apps – and Revision3 wasn't among them (Google still won't give us the time of day when it comes to building an app for the Android / GoogleTV store).
Maybe it was because I was hungry, and they kept the press conference going until nearly 1:30 before letting us get up and get a bite to eat.
I admit to being underwhelmed, and probably jaded.  But I think the Revue will be a dud, and that GoogleTV will end up embedded in TVs, not as a separate set top box. 
Still, I think Logitech is making a smart play.  From how I read it, they really don't want to sell a lot of Revue units.  What they really want to do is become the premier supplier of GoogleTV add-ons, from video cameras for teleconferencing to keyboards, pointing devices and more.   If Google TV takes off Logitech will likely win in the end.  Alas, those who buy the Revue might not see it that way.