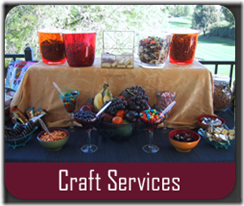 Nothing epitomizes big budget television to me like craft service. It's a separate part of production that makes sure the actors and crew are fed. In many places, it's even a union job. And if you're considering it for your web video production, you've already lost.
I don't mean to belittle the profession – it can be indispensable on large productions with mega budgets. And someday videos made for YouTube might actually be big and profitable enough to afford it. But in the immortal words of Buzz Lightyear: "Not Today Zurg".
And that leads me to my sixth and final way to fail on YouTube – pretending you are TV.
Early on in my Revision3 days I met with a lot of companies that considered web video a gateway drug. Success on YouTube, they posited, was just a stepping stone to success on cable or broadcast TV. From National Banana to Ripe TV, their focus, storytelling and budgeting was all focused on finding the next big breakout TV format.
And while they were burning cash, folks like Shay Carl, Phil DeFranco and iJustine were making videos in their basements, and building huge passionate audiences that would ultimately lead to fame and at least a little fortune. But apart from moving pictures and audio, what these subterranean video dwellers were making had very little resemblance to typical TV.
It's still true today. Even though some YouTube stars are pulling in millions of dollars a year, there just isn't enough money going around to support even a fraction of the production expenses you see on the smallest TV shows.
Shortly after Discovery bought us, I was lucky enough to visit the set of a new show for one of our smaller networks. The production company was making 10 episodes, and the rough cost per episode was about $400,000. I later learned that even a mid-level reality TV show had a team of 20-30 folks that would descend on whatever slice of life was being exposed – and stay there for weeks!
Do the math. If you average about $5 in ad revenue for every thousand views, you'd need 80 MILLION views just to break even on that $400,000 production cost. That's like scoring a "What the Fox Say" every time you post something. And that just isn't going to happen.
Even what I consider the most successful "expensive" YouTube series – Video Game High School – barely broke even. They spent $22,979.32 on craft services, and nearly $700,000 overall – even with free labor and other creative financing techniques. You can check out the cost breakdown yourself in this great article show creator Freddie Wong wrote last year. So yes, you can spend TV-style money and maybe make a little money. But you'll need to corral the most talented creators in the web-original video world and call in a LOT of favors. And even then you'll probably still lose a lot. (as an aside, I'm looking forward to a similar analysis of Season 2 of VGHS).
So before you start shooting your super-amazing new YouTube series, take a close look at that budget. If you see the words "Director of Photography", or "Grip" or you're paying for a lot of special effects and sound design you should be afraid. Very afraid. Unless you're the second coming of YLVIS – and you can do it every time – you're probably throwing money away.
And if there's a craft services line you better just throw in the towel. Because unfortunately, web video just isn't big enough to support TV food.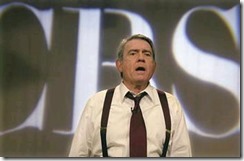 Now that Revision3 is part of Discovery (and renamed Discovery Digital Networks), I'm once again exposed to traditional television production cycles. Shows here are planned, purchased and produced in seasons. These are typically finite frequencies – 6, 13 or occasionally 26 episodes, with very clear start and end air dates.
Want to fail on YouTube? Do the same thing. Thinking of your content in seasons – or even worse, delivering content at random intervals – is one of the most common ways to fail.
The most successful creators on YouTube know this intimately. Pick any top 50 channel at random, and you'll probably find a set schedule of release that's slavishly adhered to – whether weekly, daily, and even at set times during the day. Many top creators are even building new tightly-related properties for their channels that will increase weekly frequency while continuing to follow to a rigid schedule. The incredibly talented Dane Boedigheimer just launched the first of a family of weekly scheduled series to enhance his "Annoying Orange" franchise, while Harley Morenstein – known for his weekly Epic Meal Time – just launched another regularly scheduled gaming channel.
It's a hamster wheel. Creating successful franchises on YouTube means that once you start you literally can never stop – or face audience erosion. Here at Discovery Digital Networks we call it feeding the content monster. The audience is always hungry – and has very little loyalty to boot.
I learned this early on in my Revision3 days when we brought a show over to Revision3 called "Epic Fu". Created by the incredibly talented Zadi Diaz and Steve Woolf (and originally called "Jet Set Show"), Epic Fu was one of the early YouTube successes. The creators decided to move their show from Next New Networks over to Revision3, but ended up taking a few months off during the transition. Alas, even though they were slavishly dedicated to regular release, that gap caused a disastrous fall-off in views. With all the other new shiny on the web beckoning, the audience moved on, and we never really figured out how to bring them back.
"But Jim", I can hear you complain, "what about shows like 'Video Game High School'"? The popular series just came back with season 2 – about ten months after season 1 ended – and it's still huge.
True, VGS is an anomaly – and a great show to boot. But even here there's evidence that regularly scheduled content between seasons contributed to season 2's success. During that 10 month hiatus, Freddie W and Brandon Jla released 22 new pieces of content on their channel, mostly video game themed. Even so, there was still a drop off between average YouTube views of season 2 vs. season 1– although that could easily be explained by the additional distribution the latest episodes received on their off-YouTube site and other places.
I've always thought of web-original video as more akin to talk radio and news than traditional television, and my experience bears that out. Regularly scheduled releases – at least weekly – and no gaps are required if you want to be successful. As a creator, you really want to develop habits, and regular temporal triggers make those habits easier to adopt. So take a tip from Daily Grace, Phil DeFranco and just about every other successful YouTube star: Irregularity is a path to irrelevance.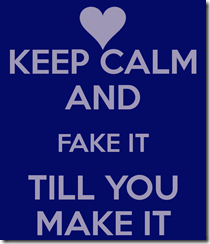 Aristotle advised readers that if they acted virtuous, they might then become virtuous. That adage has been adopted into by the "Fake It 'till You Make It" crowd, who practice self-deception as a life strategy.
And for many, it actually works. Nevertheless, it is one of the dumbest things you can do on YouTube, and indeed on the internet in general.
I call it "stream fraud", and I feel like I've been railing against if forever, but it's only been three years. Back in 2010 I was mostly concerned with shady video ad networks and other low-life players, but since then it's moved on to YouTube in force.
There are more than a handful of seemingly legitimate companies that will take your money and give you "views". A quick search on Google for "buy youtube views" turns up a variety of alternatives – from Virool to Channel Factory and Vagex - most of them shady. The recent REELSeo forum had at least two companies promising to deliver 10,000 video views in just a few days on any video. The YouTube sections on many black-hat SEO forum sites have thousands of pages where these illegitimate techniques are discussed. Unfortunately these tools are used by more brands than you might think.
You can typically spot these fake view videos a mile away. How? Look for videos with hundreds of thousands – or millions of views – and just a smattering of comments. Or hundreds of likes and no dislikes. The best YouTube videos engage at least a few people, and if you're not attracting even a few nattering nabobs of negativity, you're just not doing it right.
Buying views isn't just a waste of money – it's outright fraud if in-page or in-stream ads are served. But if that's not enough to sway you, YouTube's not standing still either. At the end of last year they began to target channels and videos that were clearly juicing views, including wiping out more than a billion fake views from Universal Music alone.
But that didn't solve the problem. I've continued to see blatantly faked view counts across YouTube this year – I even called out the problem during my Vidcon keynote in August.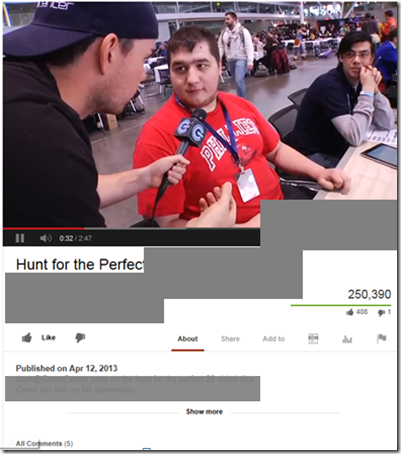 The enclosed screen shot is just one of many examples I've found. Published on April 12th, 2013, this video has over a quarter million views, but just 5 comments. Even worse, it has 408 likes, but only one dislike. And that one's not even legit – I actually put it in myself just to see what would happen.
Here's another clue that this video's views were faked. I grabbed this stats screen from YouTube just a few days ago – 23 more views, but nary a smidge of engagement: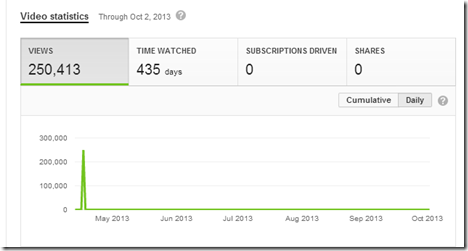 Notice that virtually all 250,413 views happened on just one day. That's just not normal. And no shares nor subscriptions were driven from those views either. If it were a duck I'd call it decidedly odd.
But YouTube has recently started stepping up its enforcement. In mid-September they posted a video warning creators away from buying fake views, The relevant quote:
"YouTube believes that a view should be something that happens when someone decides to watch a video. If someone is tricked or forced into watching a video, that is not OK…. Anything that artificially increases views either through automated means or playing videos for people who didn't choose to watch them is against our terms."
So it's not just a good idea, it's the law. And in the last few days another round of crackdowns has begun in earnest as the company penalizes and takes down suspect videos.
So if you want to fail on YouTube, go buy a bunch of shady views. And when you get caught, good luck convincing your boss, your clients or your partners that it just wasn't your fault. Congratulations! You just failed miserably at YouTube.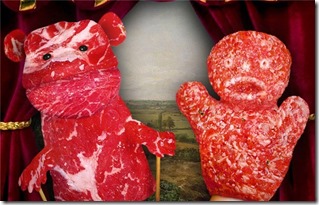 Association with a celebrity is a tried and true way to move the needle. Just put Tom Cruise in a movie, Tom Brady in a commercial or Tom Hanks as a guest host and watch viewers and sales go through the roof.
Surprisingly, it doesn't work that way on YouTube. We've seen a parade of celebrities try to dominate this new medium by riding on their celebrity coattails, and have fallen flat. Everyone from Madonna to Miley Cyrus and Shaquille O'Neil has seen dismal results.
I've talked to a number of High Q-Score individuals, and attempted to guide them to success on YouTube – or mostly to scare them away. Because on YouTube it's not about how famous you are – it's about how authentic and accessible you will be.
You just can't expect to toss up a few videos every now and then and never return. That celebrity halo that sells so much soap is just noise on YouTube. You have to actually work for your views – and that's not what most celebrities want to hear.
That's because at its core YouTube is a community. You can post videos and you might even get a handful of breakout hits. But without really engaging the community you'll fall flat over the long term. And most celebrities just don't want to put in the hard work to grow those group. It's completely understandable, by the way. YouTube is still an emerging medium, and anyone with a notable Q-Score will make far more money by plying their trade on TV, radio or in theaters rather than on the web.
There is a massive exception though: music videos. In addition to being an incredibly personal medium, YouTube is also the world's jukebox. A catchy song and some arresting visuals will keep 'em coming back again and again. And if you can get naked on a wrecking ball in the process, even better!
But aside from music videos, a celebrity-themed channel where the celeb fails to show up at least a few times a week is a recipe for disaster.
As YouTube has become more of an institution, more and more brands and newcomers are attempting to stake out a place on the biggest video platform on the internet. And as they do, they keep making the same mistakes over and over again.
Also, as the site changes and matures, things that worked five years ago are no longer the smartest ways to build audiences and get views. This multi-part series will explore a variety of ways to deep-six your YouTube investment.
PUT ALL YOUR EGGS IN ONE BASKET: When Revision3 first got serious about YouTube back in 2008, we created a Revision3 channel and dumped all of our shows into it. That was less than successful. After carefully watching (read copying) those more successful than us, we started creating separate channels for each of our shows. Only then did we start to see traction for Diggnation, Film Riot, Scam School and our other popular shows.
But for some reason YouTube decided that it was smarter to follow the single channel model when it started doling out its $200 million dollars to launch new channels. Almost all of the channels (including our own TechFeed) shoved 7 or more separate shows into a single channel. Smarter YouTube experts – including Phil DeFranco with SourceFed and the Green Brothers with SciShow – resisted the advice. Unsurprisingly their single-show channels were among the few breakout successes, while most of the multi-show channels have faded into irrelevance.
Despite the overwhelming evidence, though, I still see media companies and other brands new to YouTube trying to load a slate of disparate shows into one channel. It still doesn't work – and is clearly a recipe for failure.
Why? Because the way users consume YouTube content is very different from traditional TV. The "subscription" reigns supreme on YouTube, as the path to success is by amassing the biggest pile of subscribers you can. That's because nearly half of all views are consumed via the feed of new programming that sits on the left side of the screen – and your subscribers are the ones that will push early sharing, comments and social buzz that will drive your views even higher among non-subscribers.
But if you have multiple shows in one channel, they have to *all* appeal to your subscribers for it to work. A variety of different shows, with different audience profiles, just won't work. That's because you'll end up flooding your subscribers' feed with shows they just aren't interested in, and they'll end up either ignoring your feed-entries or unsubscribing.
There are ways it can work – but it's by creating variants of the same show rather than a variety of different shows. Check out two of our bigger channels – Rev3Games and SourceFed. Both use the same stable of 3-4 hosts and create variations on an existing show theme, rather than creating separate and distinct shows. So Rev3Games has video game "Reviews", "Previews" and "Casual Fridays" – but all with the same mission of providing intelligent, personality-driven coverage of video gaming. Similarly SourceFed ties their daily news/lifestyle coverage with segments on "Today in History" and conversational round-tables like "Truth or Dare" and "Comment Commentary".
Contrast that to the relative wasteland of "Amy Poehler's Smart Girls", Rodale's "3V" or "the Intelligent Channel" – all destinations that tried to put a disparate lineup of shows into one channel and haven't gained a lot of traction.
Next time we'll dive into how these sorts of problems could be identified, and possibly discovered, before it was too late.
This column (and the entire series) also showed up on Video Ink here.
I've finally figure out what we need to make video work around the house. It's not TV Everywhere, cord cutting or a la carte, although it could incorporate all of those. Nope, it's Sonos for video. Pure and simple.
If you're not familiar with Sonos, it's the absolute best way to get music around your house. The company's been around for about ten years, and what they do is simple, although oh-so hard. They take all of your digital music sources, and make it simple to browse, select, and then play through every audio rendering device in your house, either separately or together.
Note I said "audio rendering device", and not stereo or speakers. And note I said "digital music sources" and not iTunes, Rhapsody or something else. That distinction is important.
But first, the magic behind Sonos is a clever Wifi hack that turns all of their devices into a mesh network, rather than using a hub-and-spoke configuration that your home base stations employ. Instead, each Sonos component is both hub and node, and communicates with all other Sonos devices in a mesh. That simple change (albeit hard to implement) is what lets Sonos do what no other wireless multi-room audio system can accomplish: syncing up a song to the beat in every room in your house.
They call it party mode, but what it means is that every note of Dave Matthews Band's "Ants Marching" happens simultaneously in every room in your house – even if the node in your garage can't directly communicate to the node on the patio.
In addition, Sonos has a variety of products that work with all the audio equipment you own. Have a killer stereo? The Sonos Connect feeds music to that device. Have a great pair of speakers? The Connect Amp brings an amplifier to the game. Recently they've developed all-in-one solutions, combining base-stations and amps with great sounding speakers, and released a TV sound bar and subwoofer to boot.
And when it comes to input, Sonos works with a variety of music sources, from your iTunes library or other shareable MP3 libraries on your PC or Mac, to all-you-can-eat services like Rhapsody and Spotify to SiriusXM, Pandora, LastFM and an almost endless list of web radio stations.
Plus over its life, Sonos has been happy to cannibalize its paid products with free alternatives when devices and forces shifted. For the first 7 years or so they sold an amazing family of controllers that made it simple to access all your music sources in one place, find what you wanted to listen to, combine and break apart groups of base stations, and just get on with adding tunes to your life. But as smartphones and tablets became ubiquitous, they killed off what had to have been a profitable line, and delivered free apps for PCs, phones and tablets that were better than the hardware they replaced.
In short, Sonos reimagined what a world-class multi-room audio system would be like in the age of IP-delivered music, and have always been a step ahead of everyone else.
And that's exactly what we need for video. Here's what TV looks like in a Sonos-imagined world. Homes have a variety of video inputs, and a variety of video rendering devices. Every glowing rectangle in your home, from the smallest smart phone to the biggest TV is a video rendering device. And every video source, from YouTube, Hulu Amazon and Netflix to that multi-channel cable or satellite bundle – along with all those home and ripped videos on your PC or Mac, is simply just an input. And that phone or tablet? That's what you'll use to select what to watch and feed to one, some or all of those glowing rectangles.
Here's how it would work. A base station sits in front of each TV in the house. Each base station knows how to connect to all your internet-connected video sources, along with your local digitized video, and your multi-channel set top box or DVR. The set top box, though, will need to be physically connected to at least one of the base stations with some sort of IR-blaster or other remote control technology.
Each hub would include both the mesh-based high-speed network to communicate and synchronize with each other around the house, and a local, Wi-Fi based link to stream to phones and tablets in that room.
And for control, tablets and phones would make it easy to find all the available video in one interface, easy to peruse and manipulate.
Sounds great, right? All available video in once place, streamable to every TV in the house in a way that lets every device play its own stream, or some or all of them grouped together.
Of course there are implementation problems. First, the antique set-top box is a weak link. Companies as diverse as Logitech with their Harmony remote, and Sling have tried to make this all work, with some success – but it's a pain. It's probably best if we wait until a robust set of virtual MSOs (like the forthcoming Intel service) turn all of our video into IP-delivered streams.
And speaking of Sling, you'd probably need to acquire them to make all this happen, they are already 50% of the way there.
The wireless part is also problematic. Compared to 1080p video, audio streams are tiny. Keeping fat video streams in sync across multiple devices requires much more than standard wireless networking. And streaming wirelessly out to our phones and tablets adds another complexity to the synchronization.
But the benefits are clear. And with this type of system if new services come online, they can quickly be added in – as just another video source.
If someone builds this, and it really works, sign me up. And with a simple out-of-home streaming option, I'd be able to roll my own TV Everywhere – because in the end, that's what I think viewers really want.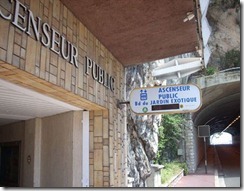 Although I've been to Monaco five times now, I've never been a big fan of the tiny principality hard up against the mountains and surrounded by the French Riviera. But on this, my latest trip, my opinions changed.
My overweening impression of the country is a unhealthy mashup of Disneyland, Vegas and Rodeo Drive, hard up against the Mediterranean. Pretentious, overpriced and just too darn immaculate, I was sure that the streets were polished by toothbrushes overnight.
But I've come to realize that my impressions were unfairly influenced by my accommodations. My first visit, ten years ago, was to attend Acer's Worldwide press conference. I stayed at the Fairmont Hotel. Situated just below the famous casino, it had splendid views and the soul of a rich whore.
My next three trips were to attend the Monaco Media Forum, a reliable mix of old friends, European media and ad execs I really enjoyed meeting, and a smattering of locals. The event is held in the Monte Carlo Bay Hotel, which resembles nothing so much as a Marriott on the Med. Tucked far away from the action, and up against the eastern French border, it's as out of the way as you can get in a country that measures just 3 miles across. If the Fairmont is a tawdry Russian Whore, the Monte Carlo Bay Hotel is a faded dowager. Both lacked soul, or indeed any sense of place at all.
So for this year's trip to the Monaco Media Forum I opted for something more authentic. Instead of the overpriced hotels on the water I opted to stay in Beausoleil France - in a hotel just a few feet uphill from Monaco. In fact, the Odalys Haute Principaute was an "Apparthotel", full on apartments that were available from a night to a week or more.
Despite being a 15 minute walk from the Monte Carlo Bay Hotel, it was a world away. Yes, I was still surrounded by too many bejeweled and sandblasted ex-beauties, and too many overly-precious small dogs. But I also finally felt part of the real fabric of Monaco life. I shopped in the local grocery store, drank coffee with the workmen and strolled down real streets that weren't over-populated with brands you'd be just as likely to see on Rodeo Drive.
And finally, after five trips, I felt like I'd figured out how to navigate this nearly vertical tiny country.
Monaco can be devilishly confusing. I still remember my first visit, alighting from the train station and being completely and utterly lost. The station, like the rest of the city is carved out of a steep hillside, with the tracks in the center. Head up one way, and you can take an elevator to the one of the highest streets. Head out the door off of the tracks and you'll be walking down a nearly endless staircase to the sea.
But off on the far end of the tracks is a set of elevators and escalators that take you down to the sea as well. Make a false move, however, and you end up whisked back up to the top, this time near the Exotic gardens.
Too many choices, not nearly enough context. But after a few visits I figured out the train station. And on this visit, the entire genius of the elevator system suddenly came into focus.
Monaco is much like Boston, just vertical not horizontal. When I lived in Boston I realized that there are three ways to get somewhere. The obvious one - which is typically the slowest, the circuitous one, which often yields quicker travel times, and the hidden one which takes years to discover but reliably gets you there in less time.
And that's where the elevators come in. In Monaco, you can always wind your way around the city, through hairpin turns and switchbacks to get up, down and around. Or you can hit the Stairmaster, climbing up endless flights to ascend from the beach to the casino, restaurants and the sights.
But the elevator system makes the place much more manageable. It turns out there are an array of elevators that makes navigating the city a breeze. Don't worry, it's still a work-out. But since you'll be climbing and descending countless steps anyway, the elevators really help.
It's a bit disconcerting at first. You typically head into what looks like an office building, and then along a dispiriting hallway of linoleum and florescent lights. The elevators themselves are simple stainless steel, but they perform miracles. Suddenly, after 30 seconds or so, you pop out and you've gained hundreds of feet of elevation. Effortlessly.
I passed this wisdom on to a couple of friends also at the media forum and they were flabbergasted. "Elevators? Really?" But once you know how to find them, it's simple to take advantage of these legsavers.
And once I mastered the elevators, I could get from spot to spot simply and easily. And because I wasn't staying in a soulless corporate hotel, I felt like a real denizen of Monaco, not just a fleeting visitor.
And I came to like the little place. Sure it was still overrun with too many cigars, too many Russian hookers and too much pretension. But I found I could ignore all that, and actually enjoy this pretty country on the Mediterranean.
So if you do decide to go to Monaco, don't miss the centers of debauchery at the Casino, the Buddha bar and the Hotel Du Paris. But stay at the Aparthotel and get out of the touristy places. Definitely bring walking shoes, and pick up a copy of the local map. Look for the many "Ascenseur Publics" - you'll still climb a lot of stairs. But not as many, and you'll end up getting to places you'd never visit. Oh, and good luck with the train station. You'll probably need a few trips to get it right.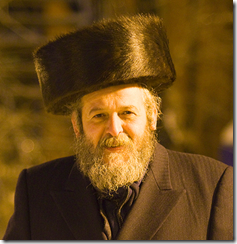 I'd hardly been in Israel for an hour and I nearly got stoned. With real rocks. And arrested too. It wasn't my fault, I swear. I blame GPS.
I'd flown in from San Francisco for the first INTV conference in Jerusalem, put on by the biggest local TV network Keshet. Jerusalem's about a half hour drive from the airport, and I arrived, as it turned out, around 3pm on Saturday.
Saturday's a special day in the Holy Land. I realized that while looking out the windows as we were landing - mid-day on Saturday and the streets and highways were practically empty. It was as if the entire population had vanished.
Shabbat, or Sabbath, runs from sundown Friday until sundown Saturday. For the devout, that means family, food, prayer. But no work.
It's not the entire country that shuts down; parts are more strict than others. But as my taxi followed his trusty GPS into Jerusalem, as the sun was starting to set, we suddenly ended up in a part of West Jerusalem where the streets were packed with black-cloaked and hatted denizens, all casting us the dirtiest looks I'd ever seen.
My Hebrew speaking cab driver started to swear and made a quick U-turn. Despite the increasingly strident protestations of the dashboard GPS, he hightailed it back to the highway and out of town.
"Shabbat", was all he said to me. Later I found out that in that particular part of town during the Sabbath anyone doing any work, or using any technology - even driving a car - could get you arrested. Apparently we'd performed more than a handful of the 39 prohibited activities during the Sabbath. Even worse, we could have been stoned by the ultra-orthodox residents as we drove by!
GPS has come a long way. But it still has its limitations - and apparently religious observances have yet to be programmed in. Someone ought to get right on that, before someone else – like me – gets hurt!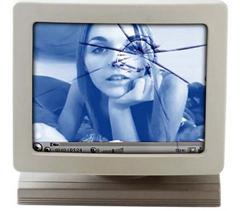 Normally, losing home page placement for an app on the iPhone and iPad would cause gnashing of teeth and wailing of tongues in the afflicted boardroom, along with wholesale firings and restructuring.
But in YouTube's case, losing that coveted spot on Apple's mobile devices is an unequivocal blessing, not a curse. It's great for the company, great for video creators, and in its own way, great for Apple. In fact, there's only one real loser — but more on that later.
Back in 2007, a YouTube app was prominently displayed on the iPhone (and eventually the iPad) home screen, in a deal presumably brokered by Google's Eric Schmidt when he was still an Apple board member. It was a golden gift for the up-and-coming video sharing site, but it came with massive strings attached. YouTube had very little to say in the app's functionality — it was built by Apple, to its own specs and design.
Five years later, things have changed. YouTube is less about cats riding donkeys and more about professionally produced entertainment and information — of which my company, Revision3, is among the leading creators. Advertising in 2007 was mostly using adwords-style text ads, while today it's all about professionally produced pre-rolls and skippable video ads. And that's big business just about everywhere you can see YouTube — except on iOS.
And that's the real problem in today's YouTube/Apple relationship. The app itself is stuck in the last decade, and contains no advertising at all. Back in 2007, this must have been a logical trade-off — YouTube needed awareness and eyeballs more than it needed cash.
But today, according to comScore, nearly 55 percent of all U.S. video views happen on YouTube. Thousands of video creators now make a good living via YouTube-served advertising. And a number of big companies — ours included — have sprung up to optimize the opportunity.
But at the same time, Apple's iPhone — and particularly the iPad — are redefining what it means to watch video. Curling up with a good set of videos on your tablet is rapidly becoming as popular as plopping down in front of the big tube. But as more and more video gets viewed on these devices, less and less money accrues to the creators.
The evidence is writ large across our own YouTube CMS data. Over the last year we've seen our percentage of YouTube-delivered views that could have an ad attached (what YouTube calls "monetizable views") drop steadily — from 57 percent in July of last year to 46 percent this July.
At the same time, we saw views from mobile devices, which include both smart phones and tablets, nearly double: from 21 to 39 percent of overall views. Although the data isn't granular enough to identify what percentage of those mobile views were from iOS devices, given the penetration, it's reasonably safe to say that 75 percent or more are coming through Apple's YouTube app.
If our data is representative of the rest of YouTube — admittedly a big if — then you could assume that nearly a third of the site's views are coming from iOS devices, and are thus bereft of any moneymaking opportunity.
In the end, even without that prominent place on the iPhone and iPad home screen, YouTube's not going to suffer too much. Pretty much everyone uses YouTube now — unlike in 2007, when it needed more exposure. Web video has gone from the awareness phase to the monetization phase, and losing a little traffic for the opportunity to make more money is an acceptable trade-off.
As a business built in part on YouTube, we feel the pain keenly. I would gladly lose 10 percent of our overall YouTube views in exchange for 20 percent better monetization. And that's why this is a net positive for YouTube and the entire creative community.
In fact, there's really only one constituency that's losing out here, and that's the viewers. They've been enjoying a free ride on the iPhone and iPad for the last five years, and as the quality of YouTube's content has increased — along with the cost of production — they're still able to watch without viewing ads, and without paying for the pleasure.
I feel for the audience. But I feel for my bottom line even more.
I often talk about "The Cow Path" when I talk about old media, new media, web video and traditional Television, but I haven't really ever explained it well.  Until now.
Did you ever see cows go to a feed trough?  They beat a path directly from the open gate into the field right to the feed. If you you subsequently, say, move the feed 100 yards to the right, they will first head down the original path to where the feed was, and then take a 90 degree turn and march to where the new feed is – rather than going on a diagonal path directly to the new trough location.
All new media, when it first comes out, suffers from the cow-path mentality. We put magazine articles on the web (I did this at PC Week when the web first came out). We put sitcoms and dramas on web TV. We film radio shows and call them TV shows. We put movie cameras in front of plays and call them movies.
Over time we figure out the parameters of the new media, and what works and what makes sense. We learn to move the camera. We figure out the diagonal. Heck, sometimes even smart cows figure out the diagonal too.
Most of the popular new YouTube stars are figuring out the diagonal.  Here at Revision3 we spend the majority of our time plumbing the parameters of the diagonal. But I still see a sizable percentage of those attempting to build the new web original video world stuck on the cow path.  Do we want to be TV on the web?  No, we're building a new medium.  Because in the end those old cow paths become obsolete.
There are four platforms that matter. Google/YouTube, Amazon, Apple and Microsoft. If you're not planning and building for each, you're limiting yourself big time.  And if you're stuck on the cow path as you approach each of those four feedlots, you're sunk as well.
Guess what, today (5-9-2012), our biggest tablet/mobile device is at Revision3?  It's the Kindle Fire.  And it's off the cow path.