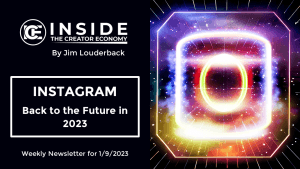 This week – Snapchat's sort of secret ad sharing plan, is the creator economy headed for a crash in 2023, new study shows GenZ mostly lives online, prefers creator-founded brands, love TikTok but would take YouTube to a desert island. Plus, Instagram's surprising strategic plan, resources to better plan and package content and a surprise John Green sighting on Tumblr. It's the second week of January 2023 and here's you need to know.
Instagram Decides to "Dance with Who Brung Ya": After what feels like an overly ambitious foray into algorithmic feeds and a video focus, it's back to the future. In his 2023 "Areas of Focus" video, CEO Adam Mosseri said Instagram will refocus on "bring(ing) people together over the things that they love", inspiring creativity, discovery and sparking connections between people. I'm happy to see Instagram return to its roots a bit. However, an algorithmic content graph – like TikTok's – will still power much of the feed. Here's an unasked-for suggestion. Much as hashtags and an AI powered speech- engine text (think reverse ChatGPT) shaped TikTok, Instagram should do the same with images. A reverse Dall-E or Stable Diffusion ought to be possible today – and I would love to see a social network curating my visual graph. Travel photos and cute doggy pix 4 evah!
Snap's Sneaky Ad Revenue Sharing Plan: Loved reading Rich Greenfield's 2023 predictions, including how Pinterest will be sold and TikTok growth will slow. But his last prediction, number 23, was the biggest eye opener. Greenfield thinks Snap will lean heavily into the creator economy in 2023, and highlights how it has quietly started sharing direct ad revenue with creators via Snap Stories. OG David Dobrik apparently is the poster child for this new monetization scheme, which inserts ads into the original "Stories" feature. Great to see, I can't wait to see more creators jump on board – and more information on how much is actually shared, who gets to benefit and real results.
Diving into the Trough of Despair: We all loved the last few years as the creator economy rocketed up the hype cycle. Venture money flowed, creators were lionized and times were good. Well apparently that's all over, as pundits are now declaring doom for creators and the death of the creator economy: overhyped, overblown and bound for the bit bucket. Yes, the hype was strong, and yes we got ahead of ourselves. But I still talk to companies and creators every day who are making money and growing their businesses. The good ones anyway. This will be a tough year. Startups will fail, creators will feel pain and negative stories will flourish. Buckle up, turbulence ahead. But this is just the end of the beginning, not the beginning of the end, and we'll be a better industry in 2024 with all this excess behind us.
88 Pages of Insightful Consumer Trends For 2023: Want to know what this year's consumer will be obsessing over? Check out Dan Frommer's latest study of "The new Consumer", which includes a broad US survey from November and panel results from 15-18 year olds. This is Mary Meeker-style quality, 88 pages of insight and analysis. A few big findings: Half of GenZ and Millennials say they "live online", and almost a third want to spend even more time there. The study's TikTok insight is eye-opening, from favorite genres to how powerful their discovery engine really is. Oh, and if they had to choose between TV and TikTok – nearly two thirds of Gen Z would toss that set right out the window. YouTube gets some love too – as it's the first choice for a desert island sojourn, beating out Netflix, Prime, TikTok, Hulu and more. Oh, and if you think creators can't "be" brands you're wrong. More than a third of GenZ and Millennials prefer creator-founded brands. Download the study for much, much more.
—– SPONSOR THIS NEWSLETTER TODAY —
For the first time ever, you can reach over 20,000 readers of Inside the Creator Economy by sponsoring this newsletter. Sponsoring "Inside the Creator Economy" is a strategic way for companies to reach and engage with a key audience of creators, content makers and industry leaders, and to build a positive brand presence within the creator economy. Read this for more information and/or email me at jim@louderback.com
————————————————————-
QUIBIS:
CRYPTIS:
GENIES:
Tip of the Week: Sizing images correctly for thumbnails, image posts and more is essential to maximizing experience, reach and viewability. But it's not easy to find the correct specification across popular platforms. Hootsuite to the rescue with a handy cheatsheet detailing image sizes for 8 top sites.
What I'm Watching:
See you around the internet, and feel free to share this with anyone you think might be interested, and if someone forwarded this to you, you can sign up and subscribe on LinkedIn for free here! And don't forget to listen to The Creator Feed – the weekly podcast Renee Teeley and I produce – get it on Apple Podcasts, Spotify or Stitcher!