09/26/2022: Here's what's new and what caught my eye last week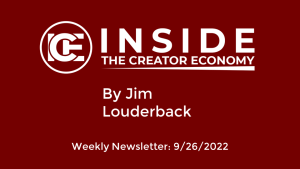 YouTube Embraces Funds for Shorts Payouts: The good news – Shorts creators will get paid. YAY! The bad news – it will be through a "fund" approach that only includes certain creators, and the payout ratio is only 45%. Another tranche will be earmarked for musicians, with the total not to exceed 55%. But 55% of what? It's not total Shorts ad revenue, as Hank Green points out. YouTube won't tell us exactly what IT is (apologies to Monty Python). I'm also concerned about 45% of whatever, compared to the 55% split for creators on YouTube main. The math says that YouTube values Shorts creators about 20% less than regular creators – and could lead to a total devaluation of creators across the platform. It also creates a "have" vs "have-not" class on the platform as some will be eligible for the Shorts payout and others will not. Creating payout tiers between content type and creator type is wrong – and devalues creators overall. I'm sure about one thing though – this DEFINITELY puts the pressure on TikTok. Double-T, the ball is in your court.
ESPN Takes Advantage of Creators: So here's a great deal if you want it. Come work for ESPN, be a special TikTok "creator" for them – and post, post, post! In exchange you'll get travel, tickets, access, equipment – but no money. It will likely be good for ESPN, but it's shameful to see a powerful media brand taking advantage of creators like this. Creators are businesses – argues Sima Ghandi – not freelancers. And they certainly shouldn't give it away for free. Oh hey, didn't ESPN's parent company buy a YouTube network? Called "Maker"? Well that didn't work out, and I hope this exploitative effort doesn't either.
Twitch's Terrible, Horrible, No Good, Very Bad Week: Things are very wrong at Twitch. Look at what happened just last week. First, a large streamer scammed 55 others out of $300k. That led to a boycott threat by other creators unless Twitch banned gambling. Another top streamer was accused of covering up sexual assault, while yet another was caught bribing two Twitch employees with $80k in crypto during a live stream. Bloomberg weighed in with a story about how child predators are rampant on the platform – abetted by product design choices. Finally the company capped earnings for top creators. All this presumably led to the company's top creator partnership exec to quit after less than a year. Not exactly what you want heading into TwitchCon in San Diego next week. That's a lot of bad. I wonder what Amazon will do to reign in their wayward child? My take: Twitch needs strong creator leadership, guidelines that are enforceable across all creators, even the biggest, and product changes to protect fans and creators.
How 
You Can Use Music to Drive Views and Sales: Sounds are powerful. Musical stings create mental associations – think Intel Inside or the Southwest Airlines "ding". Creators and brands are taking this to TikTok with great success. Brendan Gahan explains how ELF Cosmetics led the way by creating an ELF sting and working with TikTokers to spread it far and wide – to the tune of 3.1 BILLION views (pun intended). Brendan explains how you can use SURF to do the same. Also loving ELF's visionary leadership – they're the first beauty brand to embrace BeReal too.
QUIBIS:
CRYPTIS:

SPONSOR: Again, I'm my own sponsor – check out the new podcast Renee Teeley and I are producing, The Creator Feed. News, insight, and analysis about what's important today, what will be important tomorrow – and what's really important to you as a creator. New episode going up today! Subscribe now on Apple Podcasts, Spotify and wherever fine podcasts are served.
Tip of the Week: How do you unpack the confusing world of brand deals – particularly as a relatively new creator? Popular creator-first company Stir has your back with its "Creator's Guide to the Brand Deal Galaxy". Lots of good tips inside, including how to find the right brand, negotiating a fair contract and pitfalls to avoid. Definitely required reading for anyone considering that ESPN partnership.
What We're Watching: Loving the new trailer for the upcoming Odd1sOut Netflix show!
See you around the internet, and feel free to share this with anyone you think might be interested, and if someone forwarded this to you, you can sign up and subscribe on LinkedIn for free here!
People to tag: Hank Green, Brendan Gahan, Sima Ghandi, Jackson Williams, peter csathy
Hashtags: YouTube Shorts Monetization, Twitch Problems ESPN? STIR #creatoreconomy #linkedintopvoices #linkedincreators