If you are headed to Tuscany, make a point of stopping by Lucca for a few nights.  It's pretty, inviting, friendly and full of delicious food!  Here's where to stay and where to eat: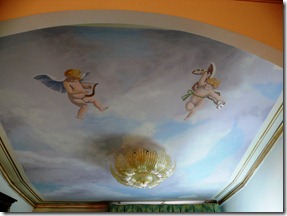 WHERE TO STAY – PALAZZO ALEXANDER
OK, let's get the bad out of the way first. I traveled here in November 2012 with my wife and 13 year old son. We reserved a Jr Suite with 4 beds. Apparently there are two junior suites. one has a terrace overlooking the city. The other has naked angels on the ceiling.
Alas, we did not get the terrace. When the proprietor Mario showed us the room, it was somewhat shocking. The entire room was done up in a crazy-quilt combination, with naked angels painted on the roof, overplush and (to our view) tasteless matching couch, chair and bedspread. Instead of a terrace, there was a great whirlpool bath with a window overlooking the town.
My wife and I had a good laugh. My son was terribly freaked out. We were planning to stay five days, but the angels were going to force us into the street far before that.
But here's where the great staff rode to the rescue. The other Jr Suite was booked, but they readily agreed to move us downstairs to a pair of connecting rooms (luckily it *was* November, and the hotel was not nearly full).
The two rooms were perfect. No wild and crazy paintings. No overdone plush. Just comfortable, clean and inviting . And as it turned out just about everything else about the place was amazing too.
The staff (Mario, his son Gabriel and everyone else) could not have been more helpful. Fully conversant in English, they made dinner reservations, had great suggestions and even went out of their way to help us with our computer connectivity challenges.
The rooms were super comfortable, the common areas a lot of fun to hang out in, and the included breakfast was more than enough to get us going each day.
Oh, about the networking. They have pretty decent connectivity downstairs, but by the time you get to the top floors, it gets a bit spotty. You can do email and read web pages, but don't expect to stream any video. According to the tech expert Gabriel, the building is built out of thick stone, and stone attenuates wireless signals like no-one's business.
It'll get better. While we were there the local ISP was installing fiber throughout the walled city – which led to some internet constipation, but should lead to better performance for you when you arrive.
This is one of those places you'll want to come back to again and again. And you should. Lucca is an amazingly friendly and comfortable town, the food is tremendous, and the setting divine.
WHERE TO EAT IN LUCCA
Oh, and let me give you some dining ideas as well. My favorite meal was at All'Olivo, a multi-course extravagance with local flavors, friendly service and a lovely ambiance. Buca di Sant'Antonio was a close second, although I'd take a pass on the local salt cod if I were you.
I was less impressed with Ristorante Giglio – both my son and I ended up with extreme stomach aches that night and the next day. And the food was just not that good.
But with so many great restaurants you can't go wrong. Especially in the fall when chestnuts and truffles are in season!