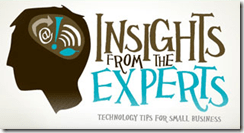 So what have I learned over the last two years running Revision3 – a decided small company with big ambitions?  You can't do it yourself.  If you really want to be successful you need a great team, and great advice from others who've been there, done that.
That's why I'm so excited about this new video series we just launched, called "Insights from the Experts".  As we put the five part series together, I got to sit down with five of the smartest folks advising small businesses today – and boy did I learn a lot.
It started with Peter Shankman.  You could dismiss him as a "PR guy", but he's so muc more than that.  I learned all about how to leverage the power of new social networking tools to really build and leverage social connections.
Ramon Ray and I had a great time talking about the mobile office, and how new software, hardware and services can keep you in touch wherever you are.
Being green is not just an alternative, it's a path to profitability. That's just one of the many things I learned sitting down with Anita Campbell, the editor of Small Business trends.
Riva Lesonsky gave me great tips on the people side of running a business, and how to focus on getting the most from your employees. 
And finally, James Gaskin got me to "Aaarggg" like a pirate.  If you want to know why, you'll just have to watch!
Thanks to each of these five small business blogging experts for stopping by our Revision3 studios and teaching me about how to run a better business.  And thanks to HP, those conversations are now available online, in video – so you can learn more about these key business and technology strategies too!
Check out this great HP Insight series! Even if you're not running a small business, you'll enjoy the conversation.  And if you are, you'll likely learn something to help your business grow!