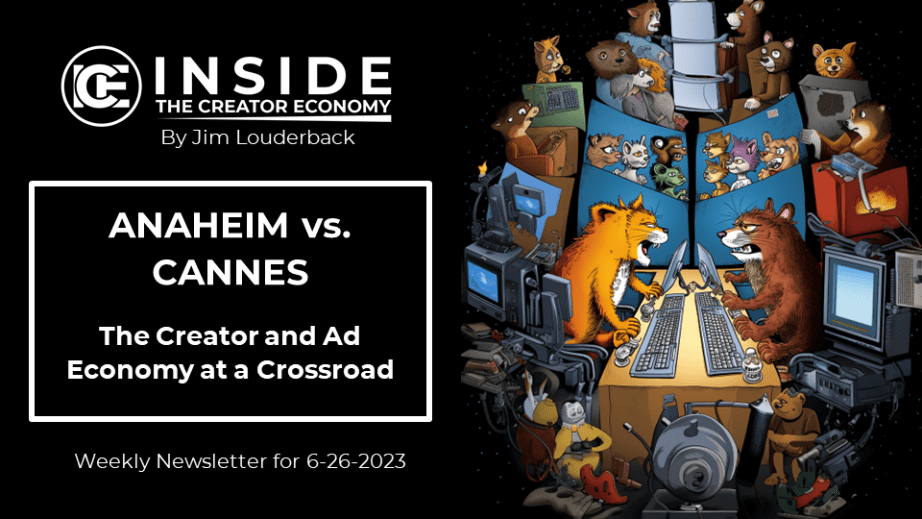 This Week Hi, I'm Jim and I helped build VidCon, Revision3, PC Magazine and TechTV. This last week was wild, with VidCon, Cannes, and lots of other upheavals in between. First up, 7 mega-themes from VidCon and Cannes, and then the other reverberations that ricocheted around the creator and media economy last week.
Creator-led Business Are Different: At VidCon Colin and Samir described how creator businesses are different from traditional enterprises, explaining that traditional businesses are a pyramid with the CEO at the top, but creator-led companies turn that pyramid upside-down and put the creator at the bottom. A traditional CEO can be replaced, but if you lose the creator-CEO the business topples.
Code and Content are All That Matters: On the same stage Mr. Beast president Marc Hustvedt compared creators to developers, saying that "code and content are the only things that scale". But that doesn't mean you can value them the same way , according to Colin and Samir. They lamented that "creators are treated like tech companies" by investors, but ultimately "this is a creative industry" – which is why many venture startups have failed recently.
Creators are the Future of Media: A least that's what Lucas Kollman, CEO of Lunar X, believes. At VidCon, He shared his company's thesis that "YouTube channels are independent media companies", while the creators behind his latest acquisition, MatPat and Stephanie from Theorist Media, shared how happy they were post Lunar-X. We were profitable and didn't need the money, Stephanie explained, but "we share creative control", which was essential to getting the deal done. The transaction also freed up the team to quickly launch new channels they'd been developing since 2015.
But We're Shifting from Community Fanbase to Entertainment: That's what top media analyst Rich Greenfield explained to me on stage at VidCon, saying it's a scary time to be a creator. Why? So many people are simply looking to TikTok and other short-form platforms just to be entertained, and less and less are building strong relationships with creators, which means it's going to get harder to build big audiences.
Don't Trust TikTok: Night CEO Reed Duchscher echoed Rich's concerns, telling creators not to rely on TikTok for long-term business building – along with exhorting creators to embrace their leverage – in an open letter to the creator community on the eve of his trip to VidCon.
The Ad Business Is Going to Get Worse: At Cannes Brian Morrisey told marketers "if you thought this business was hard, bad news for you: it's gonna get harder. So cry in your rosé or get lean and ready to fight for your existence every day." – while his partner Mike Shields shared how differently advertisers view TikTok and Snap. For advertisers "TikTok is roaring. Snap is not", while at VidCon creators were raving about Snap payouts and lamenting their awful TikTok revshare.
The Battle Has Been Joined: Evan Shapiro wraps up his spring of conferences – which started at SXSW and ended at Cannes — concluding "The Creator/Community economy is now a necessary and important direct competitor for talent and revenues with the corporate content economy".
But that's not all that happened last week.
TikTok COO Steps Down: As Rich Greenfield and I were about to go on stage at VidCon, news broke that after five years, V Pappas jumped off the good ship TT. Lots of thoughts on their departure and who will fill the void. But you might not realize that V has a long history of fiercely protecting and advancing creators. In the early days, V worked at Next New Networks, built their internal YouTube creator bible, and helped produce and train many early creators. Next New sold to YouTube in 2011, where V went on to expand and grow the Creator Playbook and build the creator and audience development teams. It was an important strategic move for YouTube, because – as an exec explained to me back then – "As part of Google, YouTube could only hire straight-A students from top schools, rather than B- creative geniuses from Michigan State and NYU." We all owe V (and NNN) a debt of gratitude for inventing the audience development discipline we've all benefited from and turning YouTube into a place where creative expertise was valued as highly as academic excellence. Looking forward to what's next – and I hope they add a Chief Creator Officer to the rebuilt team.
High-School Hi-Jinks: As TikTok continues to drive more attention away from legacy social networks, their leaders resorted to playground pugilism. A Zuckerberg vs. Musk cagefight is all kinds of stupid. Alas, even today playground bullies get most of the attention.
QUIBIS:
CRYPTIS & GENIES
I will be posting more thoughts from VidCon all week, but until then thanks for reading and see you around the internet. Send me a note with your feedback, or post in the comments! Feel free to share this with anyone you think might be interested, and if someone forwarded this to you, you can sign up and subscribe on LinkedIn for free here!
If you're interested in working together as a sponsor to reach the leaders in the creator economy, check out Inside the Creator's sponsorship packages and/or email me at jim@louderback.com
And don't forget to listen to The Creator Feed podcast – Renee and I will be breaking down VidCon this week too. Get it on Apple Podcasts, Spotify or Stitcher!