This Week: Come to my Baltimore meetup – in partnership with Brendan Gahan and Avi Gandhi on Sept 27 – RSVP here. Also, my most meta headline ever tops the QUIBI section. It's the second week of September 2023 and here's what you need to know.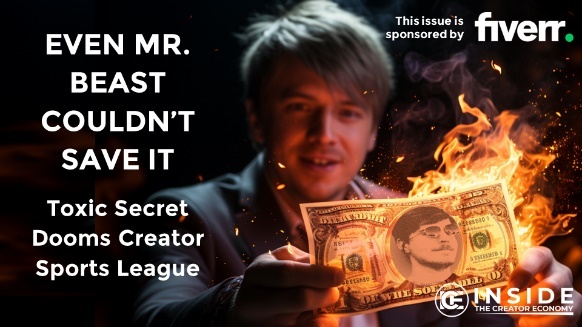 Mr. Beast Pumped a New ESports League. It Didn't Go Well: A flashy new league, anchored by top creators including Bella Porch, Clix, Vinnie Hacker and CDawgVA — and promoted by Mr. Beast — imploded when its secret crypto underpinnings were revealed. Turns out fans were enticed to purchase $20 community passes, which were secretly tracked on a blockchain and sounded like NFTs. Nothing wrong with that in theory – but the subsequent uproar caused many creators to abandon ship. So many lessons. First, crypto, blockchain and NFTs are still toxic to many creators and fans. Second, if you're building on Web3 tech, don't obfuscate. Disclose early and often. NFTs offer great promise for the creator economy, argues Peter Csathy, but clearly much work needs to be done. I wonder how much money "Creator League" parent company eFuse just lost? Investors Seth Curry and Ezekiel Elliot can't be happy.
Media's Jurassic Age is Over: If you are reading this newsletter, you probably know this, but media cartographer Evan Shapiro's latest map makes it abundantly clear: the Dinosaurs are doomed. Eshap charts revenue and audience for today's global media ecosystem, starkly depicting how traditional TV has already lost to online video. There's no going back. This is good news for creators, as more doors opens up as gatekeepers fade away. Adjust your worldview and your financial models accordingly. RELATED: Interesting LA Times story on film-school graduates opting for the creator economy over traditional media.
Spotify's Big Podcast Bet Failing: With more than a billion dollars spent, Spotify has shockingly little to show for that investment. Reported by the WSJ ($), and summarized by the Daily Mail, those high-profile bets on Kardashians, Obamas and Prince Harry just haven't paid off. It reminds me of YouTube's "Original Channel" program, a $200M bet on mostly non digital stars with disastrous results. Ironically the WSJ's analysis is best digested on Gimlet – one of Spotify's $230M whiffs. Podcasts remain strong for creators, but mostly as part of a balanced mix of formats with incentives aligned on performance, not glitz.
Private Communities Accelerate: Last week's jibe at the Insider's "Social Media Is Dead ($)" story only lightly touched on their second theme: the rise of private communities. But the growing trend was accelerated last week by Clubhouse, TikTok, Instagram and Patreon.
SPONSOR: Fiverr Wants to Work with Creators Like You
And they're paying generously, too.
Experience the power of Fiverr firsthand and amplify your content creation. As a Fiverr influencer, you'll receive credits to acquire Fiverr services tailored to your channel's niche and your audience's preferences.
Fiverr's program for creators also offers your choice of flat-rate or commission-based payments. For commissions, you can earn a minimum of $30 for every customer you refer.
Finally, partnering with Fiverr can also serve as a source of inspiration for your next big video. Join hundreds of creators already cashing in on promoting the world's largest marketplace for digital services.
If you're a YouTuber with at least 5,000 subscribers, apply today.
QUIBIS:
YOUTUBE
META
TIKTOK
OTHER CREATOR ECONOMY
GENERATIVE AI
TIPS
Thanks for reading and see you around the internet. Send me a note with your feedback, or post in the comments! Feel free to share this with anyone you think might be interested, and if someone forwarded this to you, you can sign up and subscribe on LinkedIn for free here!
If you're interested in working together as a sponsor to reach the leaders in the creator economy, check out Inside the Creator's sponsorship packages and/or email me at jim@louderback.com
And don't forget to listen to The Creator Feed – the weekly podcast Renee Teeley and I produce – get it on Apple Podcasts, Spotify or Stitcher!