This Week Hi, I'm Jim and I helped build VidCon, Revision3, PC Magazine, and TechTV. We're publishing late Monday this week in honor of yesterday's Juneteenth holiday here in the US. It's VidCon week 2023, and I'm driving to Anaheim as you read this. Here's what you need to know!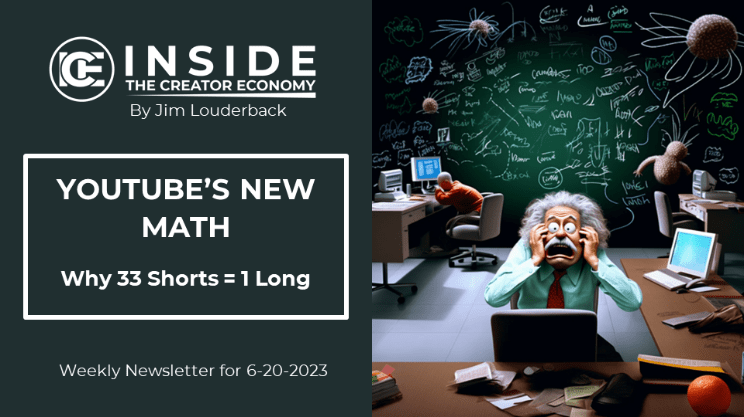 YouTube "Says" Shorts Worth Just 3% of Long-Form: YouTube made it easier for creators to get into its partner program by lowering the bar to just 500 followers and 3,000 hours of annual view time for longform or 3 million shorts views within 90 days. This is a good thing. An unintended consequence – a little math shows just how little YouTube actually values shorts. 3,000 hours works out to 15,000 minutes a month. 3 million shorts (assuming a 30 second average) works out to 500,000 minutes a month. And 15,000 Long-Form Minutes / 500,000 Shorts Minutes = 3%. In other words, a minute of long-form viewership is equivalent to 33 minutes watching Shorts. I go into more detail here, but clearly almost no one is going to make a living on shorts anytime soon.
Ignore the Power of Community at Your Peril: Back in 2010 Digg was on top. Then they decided to forgo their geeky users and recraft the site as a mainstream media service. The community revolted and then abandoned Digg. Arguably Reddit benefited the most, and is now among the most popular communities on the web. Or it was, until they ignored history and decided to essentially block community apps from accessing the site. The community struck back. Last week almost 8,000 subreddits shut down for a few days, and even now many are either not available or private. Search links are mostly useless, and the CEO is now warning the staff not to flout Reddit colors in public, while the company threatens top moderators with "replacement" if they keep protesting. It's yet another example of ultimate hubris. When you live by the community, you die by the community. This probably won't be the end of Reddit (hey, even Digg is still around), but will likely siphon of many users away to Discord and other places.
The State of Global News 2023: The Reuters Institute just released their annual Digital News Report and the growing impact of social platforms is telling. Algorithms have clearly fallen out of favor, with less than a third preferring that method – but editors and journalists rank even lower. It's also telling that while professional journalists drive discovery and discussion on Twitter and Facebook, creators and celebrities drive the news on TikTok, Instagram and Snap. YouTube and TikTok continue to grow in importance for news consumption, as Facebook declines. There's lots more inside the expansive report, but get another cup of coffee before diving in.
VidCon and Cannes Lion Fight for Dominance: This week much of the creator economy is decamping to either Anaheim, California or Cannes, France. I'll be in California, but the allure of rose and soleil is strong. I'm frequently asked why these two seminal events happen concurrently. It wasn't planned that way, but it's impossible for VidCon to move out of its June slot. Why? The Anaheim Convention Center is highly coveted, and summer is its hottest time. Teenage fans comprise VidCon's largest audience, which means only 7 summer weeks (from the third week of June to the 2nd week of August) are possible. The July 4th holiday eats up two of those. And with other long-term events holding most of the remaining space, VidCon took the best available week. And that third June week is locked in the next 25 years with no wiggle room (I know, we tried to change it). As a B2B event, Cannes Lions theoretically could move more easily, but the Palais is likely as constrained as the ACC. My take: VidCon explores the future, Cannes celebrates the past. See you in Anaheim, but if you're in France have a pastis for me.
TikTok's Releases New AI Script Generator for Ads: Sponsored messages on TikTok require a deft touch. Traditional ads don't really work well, but those that embrace authenticity, creativity and humor are far more likely to succeed. To that end TikTok just released an AI script generator to presumably help brands succeed on the video platform. Alas, based on my early tests it seems better suited for late night infomercial ads rather than authentic marketing messages. Check out this script below I created for a new household product called "A Better Mousetrap". See if you can spot the influencer!
Part 1: Hook
[Scene 1]
[On-screen visual] A person is seen trying to catch a mouse with a traditional mousetrap, but fails.
[Voice-over] Sick of dealing with pesky rodents in your home?
[Text-overlay] (Same as Voice-over)
Part 2: Scene
[Scene 2]
[On-screen visual] The character shows the new and improved mousetrap.
[Voice-over] Introducing the better mousetrap! It's guaranteed to catch those sneaky mice.
[Text-overlay] (Same as Voice-over)
[Scene 3]
[On-screen visual] The character sets up the better mousetrap with ease and catches a mouse.
[Voice-over] Look at how simple it is to set up. And just like that, we caught one!
[Text-overlay] (Same as Voice-over)
Part 3: Call to Action
[Scene 4]
[On-screen visual] The character showcases the mousetrap with the captured mouse in it.
[Voice-over] No more nasty vermin running around your house. Get your better mousetrap today!
[Text-overlay] (Same as Voice-over)
QUIBIS:
CRYPTIS & GENIES
Tip of the Week: It's essentially a master class in starting a YouTube channel in 2023 – and it's free – from @renee Teeley and @descript (complete disclosure, we host The Creator Feed podcast together).
What I'm Watching: Who knew Walmart TikTok was a thing (well, I guess The Daily Dot did).
Research of the Week: New study from Tilt on the state of the creator/entrepreneur, aka "Expert Creators". One key finding: it takes 18 months on average for a creator business to become self-supporting.
Thanks for reading and see you around the internet. Send me a note with your feedback, or post in the comments! Feel free to share this with anyone you think might be interested, and if someone forwarded this to you, you can sign up and subscribe on LinkedIn for free here!
If you're interested in working together as a sponsor to reach the leaders in the creator economy, check out Inside the Creator's sponsorship packages and/or email me at jim@louderback.com.
And don't forget to listen to The Creator Feed – the weekly podcast Renee Teeley and I produce – get it on Apple Podcasts, Spotify or Stitcher!