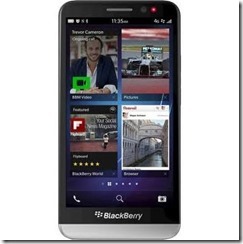 I really like the new BlackBerry Z30 smartphone running the latest version 10 of the OS. There, I said it.  Let the brickbat tossing begin.
So, to quote David Byrne, "How Did I Get Here"? I'm a dyed-in the wool Android user, with an unnatural aversion to even Apple's mobile products. It all started when TechnoBuffalo head Jon Rettinger lent me a Q10 (and a Microsoft Phone from Nokia) to tide me over until my newly screen-cracked Nexus 5 came back from LG repair.
I was appalled by both phones – so much so that I accused Rettinger of harboring a secret grudge against me. But it turns out an old friend, Shelly Sofer, was wrapping up an 8 year stint running BlackBerry product PR, and convinced me that I really ought to try the Z30. Not only was it a real 5-inch smart phone without the fuddy-duddy physical buttons, it addressed one of my biggest problems with both Windows Smartphone and BlackBerry – lack of apps I absolutely had to have.
That's because the smart engineers up in Waterloo finally decided that if you can't beat 'em, join 'em. BlackBerry added native Android app support in its latest dot-release of their OS 10. It seemed too good to be true, but I figured I'd do a solid for Shelly and give it a quick whirl.
I try out a lot of phones. Not as many as when I was editor-in-chief of PC Magazine, but I do try to stay current. I know I've started to really care for a phone when I buy it a screen protector. And no one was more surprised than me when I ordered one up on Amazon just two days after I started using the Z30. I was starting to get attached.
That, unfortunately, points to one of the shortcomings of the Z30 – the glass is very prone to scratches.  It doesn't appear to be Gorilla Glass (although that's hardly a panacea, as I found with my now repaired Nexus 5).  The Z30 could certainly use some glass hardening.
But beyond that, it's a very well built phone. Unlike the Q10, which bolts a Frankenstein-like keyboard onto a touch screen OS, the Z30's version of the OS was well thought out, using an intuitive swipe and slap metaphor that made it easy to run apps, navigate between running programs, control settings and more.
Usability
It only took a few minutes for me to feel comfortable with the navigation on the Z30. But that wasn't what sold me – the newly redesigned messaging hub was the first thing that pushed me over the edge.
I shouldn't have been surprised; BlackBerry cut its teeth on helping mobile executives make short work of email and text messages. But BlackBerry has built a unified inbox that can also be separated into separate parts, and brings together email, text messaging, along with messages from social services, including Twitter, Facebook and LinkedIn.
I found it easy to read, reply and navigate through all my messages, although there are still a couple of things I'd like to see. First, the system needs one-button delete. Right now, from an open message, you have to press three times to delete a message and bring up the next one. That's two taps too many.
However, I'd really like to see a better implemented one-button clear for all the alerts and other junk that filled up my Twitter, Facebook and Linkedin inboxes. The option exists – it requires you to tap a small section of the screen in just the right way – but only during the waning of the gibbous moon. Seriously, it's not that difficult. But it's close. BlackBerry needs to make eliminating messages and alerts as easy as reading them.
The Z30 also doesn't let you customize the interface as completely as Android. I like being able to organize my apps in my own way – and BlackBerry made that more difficult than it should have been. I'm also not a big fan of their icons – they are hard to decipher, and easy to forget. In addition, I wish I could size them up, because 20 per screen is just too many.
I also found the music player to be workable, but with a kink here and there. First, props for supporting FLAC – the popular lossless compressed format, but the "shuffle" interface needs major work. You can set shuffle at a playlist, album or track level – but you can only turn it off at a track level. I had to actually look up how to turn off shuffle on Crackberry.com – that's just dumb. And unlike Android, which stops playing music when you unplug your headphones, the Z30 just keeps playing and playing. I'd like it to stop, please.
Like Android and Apple, the Z30 lets you swipe from the top to bring up a short-list of settings. I really liked the ability to customize that list with my own most-used commands. But that quick-access option screen doesn't come up when you're running an app full-screen -  a needless limitation.
But those are really just quibbles.  The phone makes and receives calls well, the address book integration is strong and battery life was at least as good as the Nexus 5 – if not better. I liked the ability to stop/mute music playing with the half-sized button between the up and down-volume buttons. The camera took decent pictures too, although not as good as the Nexus 5. My only gripe about the hardware was that the on-off switch on my phone started sticking after a few days, which meant I needed to mash it a few times to get the phone to work. BlackBerry quickly replaced the phone, and it hasn't cropped up on the new handset, so that might be a limited occurrence.
But What About the Apps?
But the real magic here was how the company integrated native Android apps into the phone. Although there's no easy BlackBerry-created way to load Android apps, you can use third-party loaders to grab Android "APK" files and download them to the phone. Once there, the well-designed built-in file manager lets you launch – and then install – those apps.
They mostly work just fine. The SiriusXM app played all my favorite stations, Uber found me a taxi during rush-hour in NYC, Delta's app included all the great Android features, the list goes on and on.
There were a few weird oddities. The Waze navigation app consistently displayed the wrong time – somewhere in Greenland, I believe – although navigation worked perfectly. Occasionally an app would seemingly get stuck trying to launch, but simply closing and re-opening seemed to do the trick. I did run into issues with a few hyper-local apps designed to run in my local beach town. But these weren't show stoppers – and I've certainly had my share of Android crashes as well.
Even Google's own apps worked – although it was a bit of a struggle to get Google's own authentication systems working. But after following instructions from Crackberry.com I managed to get Google Maps and Field Trip running, and others have reported success with Google Play and Music as well.
One potential show-stopper though:  it's not nearly as easy to connect to a PC as your Android phone. You need to load the "BlackBerry Link" app first, which is a nice touch and automatically loads the first time you connect the phone up via the included micro-USB cable. Once you get the devices talking to each other, you can drag and drop via the Windows file manager, or use the built-in sync and backup functions.
Both worked well. When they worked. Unfortunately after two successful connects the phone inexplicably failed to connect to my PC. It turns out that BlackBerry Link uses a type of networking to create the connection, rather than having the phone act as a remote/removable hard drive. And when both my laptop and the phone were connected to my home Wi-Fi network, something caused a security block to pop up between the two devices. I merely had to shut off Wi-Fi on the phone for it to connect up again. Too bad it took me about two hours of debugging to figure this out.
Final Thoughts
All told – once I figured out the trick to reliable PC connectivity – the Z30 is a very strong competitor in the high-end smart-phone market. I was particularly impressed by the magic of native Android apps running on the mostly superior BlackBerry messaging and app UI.
So BlackBerry mostly gets it right. Alas, it might be too little too late.
If your company has standardized on BlackBerry, or you miss that great messaging experience, this is the first modern device from the company that really does stand up to the best of Apple and Android. It's not for everyone – you still need to be a bit of a geek to load Android apps for example – but all in all I really like it, and you might too.
And what's telling is that even after a few weeks with the phone I haven't gone back to my Nexus 5.  And I just ordered another round of screen protectors from Amazon.