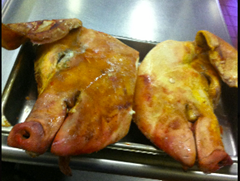 When I lived in Boston in the mid-nineties, it was hardly a food town. You had bars, restaurants posing as bars, and a few venerable and mostly inedible fine dining establishments
That's all changed. The South End of Boston has sparked a renaissance in fresh, artisanal food and the local population has taken to the change.
Sure there are lots of fine seafood restaurants in the area, from Jasper White's Summer Shack near the Hynes convention center (try the Littlenecks, they were amazing the other night), to a rejuvenated Legal Sea Foods (my guilty Logan Airport indulgence) and the deservedly trendy and popular B and G Oysters – where raw and cooked local seafood really shines.
But you expect Boston to do seafood well. It's everything else that's trailed woefully behind in the past – yet based on my recent crawling around the South End, Boston now does meat as well as sea.
I'm not talking steaks, mind you. With Grill 23, a local outpost of the Capital Grille and the usual chain suspects, marbled strips have never been an issue. Nope, I was looking for that more ethereal flesh, the cured pork parts that truly set a fine dining city apart from its pedestrian neighbors – along with enlightened wine pairings, both sybaritic and sublime.
So I was at first drawn to The Butcher Shop, located at 552 Tremont Street smack dab in the heart of the trendy South End, and across the street from its foodie sibling, B and G Oysters. I was not overwhelmed.
Perhaps it was because the maitre de forbade me from taking a free barstool – despite the fact that at least three were open, claiming that others were waiting for the space. Hustled back to the butcher-block stand-up table in the back, I waited 10 minutes for someone to come take my order.
On the bright side, the wines by the glass were rare and wonderful. I started with a first for me – a red wine from the sun-baked Spanish island of Mallorca. It was supple and balanced, something I didn't expect from such a hot growing climate, and one that's inspired me to seek out more.
I opted to pair it with a plate of Chorizo, thinking that I'd hit The Butcher Shop's sweet spot. But I was wrong. Sliced too thick, dry and chewy, it was far from the better chorizo experiences I'd had, whether at New York's fabulous Bar Jamon, or in France, Spain and Britian.
The Spanish potato dish was better, and the paired Mencia wine serviceable. And when I finally became privileged enough to earn a spot at the bar, the local crowd was convivial and welcoming. Still, I left with a bad taste in my mouth; they treated me like I should have been honored to be graced with a seat, but the food just wasn't good enough to justify the snoot.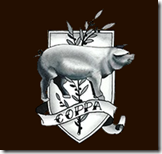 So I wandered a bit deeper into the wild south end, onto Shawmut Street. There, at 253, I found a real gem. Called Coppa Entoca, it's an unassuming little place with a wooden pig out front, and oodles of charm and awesome charcuterie inside.
With more of an Italian bent than Spanish, Coppa features a wide range of luxury salted pork products, a decent wine list, and far less attitude – and far less expense – than its Tremont neighbors.
The inviting (and super cute) bartender pushed me away from some of my original considerations, instead suggesting I try the eponynomous Coppa, along with a plate of Rosso that was equally earthy, and ethereal at the same time. The super-fresh proffered plate of bread was accompanied by a dish of some of the best olive oil I have ever tasted, smooth with a peppery finish that will kick you into next week.
I enjoyed the Merlot-blend of Italian red, found the meat amazing, loved the prices, and fell in love with the ambiance. What a gem.
If you're headed to Boston, clearly sample the fine local seafood restaurants first – and the Summer Shack, B and G Oysters, even Skipjack and Legal Seafoods are good bets. But for your second night, head over the Mass Pike to Coppa. You won't be disappointed by either the wines or the meat!