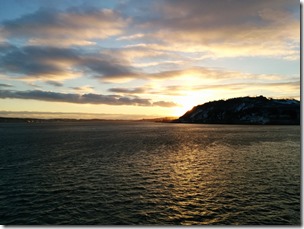 Despite going to college an hour from Montreal – and frequent visits during that time – I'd never been to the jewel of Quebec – Quebec City.   I'd heard great things about it, from fantastic food to friendly people and amazing vistas. Finally, I just got a chance to explore it myself.
I was asked to speak at a conference in Montreal on Friday December 6th, late enough in the day that it would be impossible to get home to San Francisco until Saturday.  And as the scheduling gods would have it, I needed to be at Discovery Headquarters on Monday to participate in our first-ever social summit, which would have entailed travelling BACK to the east coast on Sunday. 
But Quebec City beckoned – even though the cold of December loomed.  So Friday late afternoon I hopped on a train from Montreal to Quebec, to finally experience this pretty city on the St Lawrence river.
The train itself was a lovely experience.  Even in economy class, Canada's ViaRail coaches only have three seats abreast, and I ended up with the single seat next to an expansive – and clean – window.  There's not much to see as the train doesn't hug the river, but it was getting dark anyway.  I ended up catching up on work with the free WiFi during the three hour jaunt from Montreal to Quebec City.
After dropping my bags at my hotel – the comfortable and definitely recommended Hotel Le Germain Dominion, I headed off to old town for a quick walk around and a bite to eat.
Quebec City really is a taste of Europe in North America.  First, it's the only walled city north of the Rio Grande, circled by battlements that are three hundred or more years old.  And since it's the heart of "New France", French is not only the official language, it's spoken predominantly by just about everyone.  From the first steps out of my hotel I felt like I was in a northern European town, not a city a hundred miles north of Maine.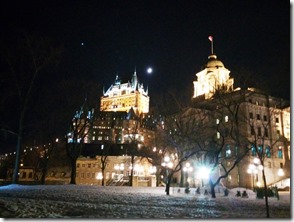 Climbing up the long and winding road to the old town was great exercise.  and as I crested the hill, the magnificent Chateau Frontenac revealed itself bit by bit. 
One of the magnificent Fairmont hotels built to support Canada's coast-to-coast railway, it's easily as beautiful as the one in Banff and Victoria.   And it dominates Quebec City – you can see it from just about everywhere.
Unfortunately it's not really much fun inside – at least not now.  I was looking forward to having a drink in the supposedly great lounge overlooking the river, but alas it was closed for renovations, which meant either huddling in the basement or pushing on – and I opted to walk around. 
I ended up having an AMAZING dinner at Initiale – about 3 blocks from my hotel.  Amazingly fresh, delicate and sublime, I feasted on King Trumpet mushrooms, scallops and venison – sauced and enhanced by root vegetables, balsamic vinegar, brussels sprout leaves, dill and much more.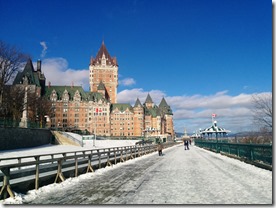 Saturday morning I awoke energized and ready to explore.  The good news: it was sunny and clear.  The bad news: the temperature had dropped to about 20 degrees tops.
But undeterred I bundled up and headed out on an epic 4 hour walk around the battlements, the walls and the governor's promenade – an amazing walk around the citadel overlooking the river and with amazing views of islands and mountains in the distance.  Plus, because the "promenade" – really a set of stairs and paths that hug the cliffs alongside the citadel walls just past the Chateau Frontenac – faces south, it was actually almost not cold.  
One of the joys of visiting great places in the off-season is you often have it mostly to yourself.  Although I'd love to see Quebec City in the summer, when Parisian-style cafes tumble down along the beautiful squares of the old city, I certainly enjoyed not being shoulder to shoulder with other tourists.  As I walked the ramparts, I passed maybe 4 other people – I basically had the city to myself!
After wandering the city for a few hours, I decided to warm up in the Museum of Civilization – a sprawling three story set of collections that I really enjoyed.  I'm not sure exactly what the mission of this Museum is – it included permanent displays on the evolution of Quebec and the Inuit natives.  But it also featured fascinating posters and paintings from Paris, a video-game retrospective sponsored by Montreal-based game developer Ubisoft and an exhibit of voodoo art from Haiti.    Definitely also recommended!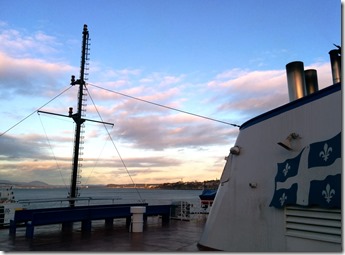 After an hour or more there, it was approaching 3:30, and as the sun was starting to set I walked across the street to the ferry terminal – hoping for a sunset sail on the St Lawrence.
I was not denied.  The Quebec City – Levais ferry heads off on its 10 minute run across the river every half hour, and for $3.50 you can ride over and back, taking in the city and the river along the way.  It's a great way to see the city – and sunset was a perfect time to make the trip.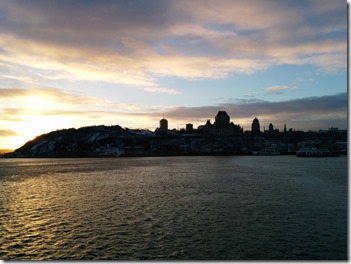 It wasn't warm though.  I bounced back and forth between the open-air deck and the warm cabin, sipping machine-made coffee for both energy and warmth.
It was well worth it though.  The views were wonderful, and as the sky darkened he city began to sparkle like an icy jewel, as the lights came on up along the cliffs and on the walls and the chateau.
If you're headed to Quebec City, get ready for a very European experience.    The food is great, the people friendly and the views and the old town are amazing.  Although it was cold, December does have a lot going for it.  The entire town is decked out in Christmas lights, there's a great German-style Winter market in front of City Hall and the Notre Dame cathedral, and you can get into every restaurant and attraction without waiting.  But it's definitely cold.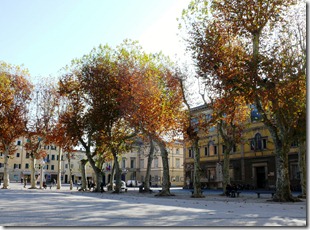 Want to see the world but miss the crowds? Consider off-season travel. I've always been a big fan, but after a Thanksgiving-week trip to Tuscany, I'm even more sold on the concept. Here's why:
First, it costs a lot less. My family and I stayed in some of the best hotels, for a fraction of their in-season rates. Once the calendar turns November, you can typically save 30%, 50% or even more. For example, we stayed in the "family room" at the elegant Montebello Splendid hotel in Florence. This two-level room with 3 beds has a rack rate of nearly 900 euros a night. We paid less than 300.
Similarly in lovely Lucca we stayed at the super-friendly and comfortable Palazzo Alexander and it was 30-40% less than what it would have cost in the summer - or even just a few weeks earlier.
But for me the biggest reason to travel in the offseason is to avoid crowds. I was repeatedly admonished to reserve tickets for popular attractions in advance, or end up waiting hours in line. Florence's amazing Uffizi Gallery, for example, was supposed to be nearly impossible to get into without a reservation, and forget a sashay up to the top of the Leaning Tower of Pisa without advance planning.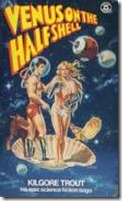 In late November, everything changes. One morning I wandered up to the Uffizi around 10, and was inside looking at "Venus on the Half-Shell" in less than five minutes. I walked right up to the Tower of Pisa mid-afternoon, and was climbing the steps a few minutes later. We stopped by the always overcrowded San Gimigiano and parked right next to the city walls - and it felt like we had the whole town to ourselves. We even hiked to the top of the Duomo in Florence without waiting more than a minute. From April to October, this kind of access would be unthinkable.
Similarly, restaurants are equally accessible. Although it still might be difficult to get to the top spots, I had no problem making reservations an hour before showing up, and we ended up eating at the top spots in Florence and Lucca. Even better, most of our fellow diners were locals, not tourists, which made for a more authentic experience - even though we stuck out like hillbilly rubes visiting Oz for the first time.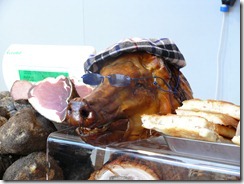 Finally, the fall is harvest and festival time in Italy. Last year I was lucky enough to visit Alba during the Truffle festival, which unfortunately created a life-long addiction to the rare white truffle - nearly as expensive by the ounce as cocaine. This year I uncovered the Lucca slow food fair, a mid-November to December celebration of the wine, food and olive oil from the less well-known, but tasty producers around Tuscany's lesser-known north-west corner.
Sure, the weather can be dicey - although I was in a T-shirt for quite a few afternoons during my late November visit. Rain is possible, but the glistening streets of Florence and Lucca have a rare and special beauty. And snow is possible - my first visit to Rome and Tuscany 20 years ago was during a rare but ethereal snowstorm that cast everything in soft earthen and ivory hues.
And since much of what you want to see in Florence is indoors anyway - and you don't have to plan your museum visits in advance - you can tour outdoors on the nice days, and inside when it storms.
Maybe you like stifling heat and crowds. Maybe you enjoy being surrounded by tourists. But if you're looking for an authentic and laid-back experience in Tuscany, try offseason. It's a far better way to really experience the art work, sights and cuisine. And if you're lucky, it'll snow!
Hello, and welcome to the first of a new series of columns from me called Wine Gear. In this space we'll be reviewing wine accessories – those things that go along with sharing and enjoying wine.
I've tried a lot of them, and I intend on trying a lot more. So you might wonder what makes me qualified to test wine products? Well for six years I ran product testing at PC Week magazine, and I hosted the popular Fresh Gear product review show on cable network TechTV for five years – and most recently I was editor in chief of PC Magazine. I know how to test products, and I don't pull any punches. I hope you'll enjoy these columns, and make sure you comment, and let me know what you think!
With that let's get into it.
Although I'm a big fan of wine, I often only want a glass or two with dinner, which leaves a half bottle or more left over. I've got a modest cellar, but many of my wines are both ready to drink, and too expensive to throw half away. And there's the rub – how do I save a half bottle of wine for a day or two without it going flat?
I've tried a wide variety of pumps, gizmos, corks and gadgets, but none seemed to work. Finally, a few years ago I settled on Private Preserve - spray cans of inert argon gas that create a neutral layer on top of any remaining liquid.
It worked well, but it wasn't perfect. Even after one night that really great bottle would often be flat and uninspiring. But it was better than nothing, and at least it worked a good portion of the time. Still, I was loathe to open up any really good bottles of wine, unless I was in a mood to down the whole thing, or friends were over to share it. And so the bulk of my cellar kept aging and aging.
Recently I discovered a new product designed to preserve wine – this time from Australia. The Wine Shield is an odd product, and at first blush it really shouldn't work. The shield is basically a plastic disc, about the diameter of a wine bottle, with the outer radius sliced diametrically in a radial pattern to allow it to fit different sized bottles. To insert it into a bottle, you wrap it around an included plastic fork, slip it in, and then let it tumble. The disk ends up floating on top of any left-over wine, creating a seal that promises to stop oxidization and preserve the rest of the bottle.
Why would a simple plastic shield work where pumps, sprays and others failed? I was skeptical, but I figured I'd try it – at least I'd be able to check another wine gizmo off the list.
Surprisingly, it worked. Not all the time, but the success rate was about similar to Private Preserve. Great, though now I have two things that work reasonably well, but are still prone to failure. I still wasn't willing to take a chance on those 2000 Bordeauxs, or that 1995 Merryvale Vineyards Profile I was waiting to drink.
But then I had a flash of inspiration. What about COMBINING the two? Maybe working together they might provide a shield that would reliably work for 24 hours, and perhaps even for a few days or longer.
So like a Reese's Peanut Butter Cup, I put two great tastes together and gave it a shot. And it worked better than I'd even hoped. Every single bottle I used with my combo stayed virtually intact for 24 hours. I started stretching it to two days, and the combo held up nicely as well. After that it was hit or miss, but I've kept bottles of Tempranillo, for example, for up to four days without losing any body, taste or smell.
So I put it to the test. I grabbed three bottles of Beronia Reserve 2005 and put them to the test. I opened all three simultaneously and tasted them. All good. I poured a glass off from each, and then stoppered one with PrivatePreserve, the next with a WineShield, and the third with my combination. After an hour or so I tasted each of the glasses, and they were in fine shape!
A day later I came back and poured off a glass from each of the three bottles.  I detected some fading in both the PrivatePreserve and the WineShield bottles, but both were very drinkable. My combo was still going strong.
By the second day, both the PP and WS bottles were noticeably fading - Drinkable, but only barely.  I poured them out. The combo bottle was vibrant and alive, and still tasted like it had when I opened it.  By day three it was still pretty good, but I could easily detect it fading.  By day four I tasted the last glass, but there was very little left. I poured it down the sink.
So there you have it. If you're like me and are looking for a good way to save a half-opened bottle for a day or two, my combo route offers the best alternative I've found to date. Sure it's more expensive than either alone, but unless you're drinking Two-Buck Chuck, the price is well worth it!
When it comes to wine gear, there are probably more variants of wine bottle openers than any other product on the market – aside from glasses. There are rabbit-shaped openers, winged openers, T-shaped models, jack-knife corkscrews blades and even those (to me) impossibly inscrutable two-pronged jobbers that are typically wielded by snooty waiters looking for an outsized tip.
This article, however, is not about any of those. Instead, it's focused on the lazy-man's corkscrew, those that promise to suck up a cork – like an elephant inhales peanuts – with just the touch of a button.
I put two of the more popular models to the test, the chic and sleek Waring Pro WO 50 (usually $90 at Amazon, but on sale while I was writing this for just over $30), and the stubby Ozeri Nuveau Electric Corkscrew (also listing at $90, but on sale for $26 when I checked).
Let's talk about looks first. If you're considering an electric corkscrew, chances are you're looking to both ease the cork extraction process and impress your friends. Since they're cordless, you'll probably be wielding the tool like a mason wields his trowel, and looks definitely count. In that category, the Waring wins hands down. The long, sleek shaft of the opener sits in an attractive base that also charges the built-in battery and includes a tuck-in foil cutter. The black base and stainless steel and black opener are attractive, and would look at home in even the highest-end kitchen or wine cellar.
Compared to the Waring, the Ozeri is just plain ugly - like comparing an F16 fighter to the A-10 Thunderbolt – aka the Warthog. But like that plane, it's deadly effective, and fun to use to boot. The Ozeri comes in three different colors – silver, red and black. But where the Waring is an enclosed cylinder, half of the Ozeri is made of clear plastic, which lets you actually watch your cork being extracted and then expelled from the opener. The Ozeri, too, runs on built-in rechargeable batteries, although it lacks an elegant charging base. But in a clever twist, the top of the charger itself is also a detachable foil cutter – pretty slick.
So that's form. Let's talk function.  I ran each through a case or so of bottles over the course of a summer party, and both openers did a good job in my tests of separating cork from bottle. Although their opening skills were similar, I give the nod to the Ozeri, primarily because it let me actually watch the cork as it was pulled, and bathed the cork in a neat blue LED light to boot.
But getting the cork out is only half the battle. The openers both include a reverse switch, which is designed to expel the cork in one piece. And here, alas, the Waring collapsed. On more than one occasion the cork got caught up in the machinery, and crumbled while being extracted. And that left pieces of cork firmly wedged inside the opener, which required an extraction process not dissimilar to that performed by an oral surgeon. The corks that got caught up did not seem overly dry, so in the end I blame it on the tool, not the user or the substrate.
The Ozeri, by contrast, did a great job expelling corks – all were released in good enough condition to reuse, recycle, or turn into twee cork-art, depending on your inclination.
Although I didn't open enough wines to drain the batteries, suffice it to say that either would last for nearly any party – apart from a graduation, Kennedy wedding, or other similarly massive and sodden affairs. Waring claims its opener will extract up to 80 corks on a single charge, while the Ozeri says it's good for 40. Either way, that's probably more than you'll regularly need in a single night – even if your in-laws are visiting.
Unfortunately, though, the Waring seems to have a battery defect. I couldn't confirm this, but more than one purchaser on Amazon claims that when they drained the Waring's battery completely without dropping it back into its charger, the opener failed to recharge, turning it into a useless piece of cylindrical plastic.
The Ozeri is not without its detractors online either – but only for the springiness of its snap off foil cutter, which for some lost its gripping ability over time. Again, after considerable, but irregular use of both over the last few months I have not encountered either of these problems, but you should know that those experiences are out there.
So which to buy? I have to recommend the Ozeri. Although I love the looks of the Waring, and the charging base is a nice touch, the functionality of the Ozeri – especially when it comes to expelling the cork – makes it a winner. And frankly, those reported battery problems with the Waring scare me. Even better, the Ozeri can be found online for a few bucks less.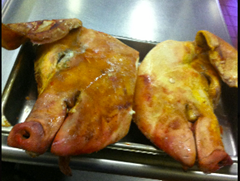 When I lived in Boston in the mid-nineties, it was hardly a food town. You had bars, restaurants posing as bars, and a few venerable and mostly inedible fine dining establishments
That's all changed. The South End of Boston has sparked a renaissance in fresh, artisanal food and the local population has taken to the change.
Sure there are lots of fine seafood restaurants in the area, from Jasper White's Summer Shack near the Hynes convention center (try the Littlenecks, they were amazing the other night), to a rejuvenated Legal Sea Foods (my guilty Logan Airport indulgence) and the deservedly trendy and popular B and G Oysters – where raw and cooked local seafood really shines.
But you expect Boston to do seafood well. It's everything else that's trailed woefully behind in the past – yet based on my recent crawling around the South End, Boston now does meat as well as sea.
I'm not talking steaks, mind you. With Grill 23, a local outpost of the Capital Grille and the usual chain suspects, marbled strips have never been an issue. Nope, I was looking for that more ethereal flesh, the cured pork parts that truly set a fine dining city apart from its pedestrian neighbors – along with enlightened wine pairings, both sybaritic and sublime.
So I was at first drawn to The Butcher Shop, located at 552 Tremont Street smack dab in the heart of the trendy South End, and across the street from its foodie sibling, B and G Oysters. I was not overwhelmed.
Perhaps it was because the maitre de forbade me from taking a free barstool – despite the fact that at least three were open, claiming that others were waiting for the space. Hustled back to the butcher-block stand-up table in the back, I waited 10 minutes for someone to come take my order.
On the bright side, the wines by the glass were rare and wonderful. I started with a first for me – a red wine from the sun-baked Spanish island of Mallorca. It was supple and balanced, something I didn't expect from such a hot growing climate, and one that's inspired me to seek out more.
I opted to pair it with a plate of Chorizo, thinking that I'd hit The Butcher Shop's sweet spot. But I was wrong. Sliced too thick, dry and chewy, it was far from the better chorizo experiences I'd had, whether at New York's fabulous Bar Jamon, or in France, Spain and Britian.
The Spanish potato dish was better, and the paired Mencia wine serviceable. And when I finally became privileged enough to earn a spot at the bar, the local crowd was convivial and welcoming. Still, I left with a bad taste in my mouth; they treated me like I should have been honored to be graced with a seat, but the food just wasn't good enough to justify the snoot.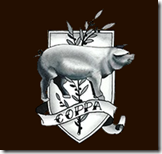 So I wandered a bit deeper into the wild south end, onto Shawmut Street. There, at 253, I found a real gem. Called Coppa Entoca, it's an unassuming little place with a wooden pig out front, and oodles of charm and awesome charcuterie inside.
With more of an Italian bent than Spanish, Coppa features a wide range of luxury salted pork products, a decent wine list, and far less attitude – and far less expense – than its Tremont neighbors.
The inviting (and super cute) bartender pushed me away from some of my original considerations, instead suggesting I try the eponynomous Coppa, along with a plate of Rosso that was equally earthy, and ethereal at the same time. The super-fresh proffered plate of bread was accompanied by a dish of some of the best olive oil I have ever tasted, smooth with a peppery finish that will kick you into next week.
I enjoyed the Merlot-blend of Italian red, found the meat amazing, loved the prices, and fell in love with the ambiance. What a gem.
If you're headed to Boston, clearly sample the fine local seafood restaurants first – and the Summer Shack, B and G Oysters, even Skipjack and Legal Seafoods are good bets. But for your second night, head over the Mass Pike to Coppa. You won't be disappointed by either the wines or the meat!