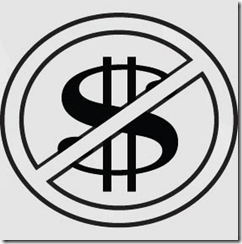 It's not like "free" is this brand new thing, created by the internet. And for all the hand-wringing going on about how free is decimating media business models, there are clear precedents for building free businesses. You just have to think beyond mass.
Way before there was a long-tail, smart media execs were building hugely profitable free businesses. I should know – I got my start working for one called PC Week. Hardly an anomaly in the business, PC Week was one of many free magazines available to industry professionals – a category called "controlled circulation"
As opposed to magazines that people actually pay for, these publications are available to subscribers who meet relatively stringent standards – i.e. controlled for that audience. When I first qualified for a free subscription, I had to work at a company with 100 or more people, and be responsible for buying, recommending or supporting five or more personal computers.
Over the years the requirements tightened, but the magazine remained free. It still is today, although it has been renamed eWeek. 400,000 people receive the magazine each week, and none of them pay a dime for it.
There are hundreds of controlled circulation magazines in the US, and they provide news, product reviews, information and much more to millions of mostly business readers each month.
Today's free-challenged media companies can learn a lot from the heyday of the controlled circulation business. Even in an age of abundance, there's a lot of money to be made in free – but it's not a mass play. Here are seven things I learned from the first "free" media company I ever worked at:
1. Aggregate Valuable Audiences: In our heyday, we were selling full-page advertisements for CPMs in excess of $200. Why? Because the stringent qualification requirements meant that each of those 250,000 readers controlled a large budget, and had big influence over what computer products were purchased. Advertisers were guaranteed to get their message in front of their targets – and only their targets.
Lessons for Today: Building mass media products designed to appeal to a non-differentiated audience today? You'll have trouble with free. But if you can build media products that appeal to a valuable subset, one that advertisers will pay big bucks to reach, then you have a shot at a profitable business.
2. Content Adjacency Matters: Although we would occasionally try to bring in non-endemic advertisers, PC Week was about corporate computing technology – and almost every advertiser we had built computing hardware, software or services.
Lesson for Today: Your most likely revenue targets are those companies that produce products and services that relate directly to whatever you're covering. When someone is reading, watching, or learning about a particular topic, they are far more receptive to advertising that relates to that same topic.
3. Speak Softly and Build a Big Database: In exchange forreceiving something of great value for free, we required subscribers to answer a long list of questions about who they were, what they purchased and where they worked. Forget behavioral targeting, at PC Week we knew all about our audience – and we knew it was true (for the most part), because they told us so directly. We didn't have to infer their intention by spying on their browsing behavior. That database then because a source of additional revenue – we mined it to create higher-value services, like seminars and add-on products, targeted even more narrowly, and capable of delivering thousand dollar+ CPMs.
Lesson for Today: Let your audience know that you are giving them something valuable, and then get them to give you something in return: personal demographic data. Build your database, and then use it to create additional, targeted products to generate even more money.
4. Useful Advertising: In survey after survey, our readers would always tell us that they found the advertisements as useful as the news stories, product reviews and opinion columns inside the magazine. The best advertisements were those that provided detailed product benefits, specifications and success stories. And our readers loved them.
Lesson for Today: Split second banners and overlays won't be as effective as deep, rich marketing and branding messages integrated into your content.
5. Consultative Selling: Our sales reps were often derided as "Stepford Reps", because they all had the same approach and patter. But surprise, surprise, those Stepford Reps are now among the most successful new media execs; their ranks include MySpace's Owen Van Natta, Tim Castelli and Suzie Rider of Google/YouTube, former Yahoo COO and current Guitar Hero CEO Dan Rosensweig, CBS Interactive chief Joe Gillespie, Huffington Post CEO Eric Hippeau and many, many more. What sets them apart? They weren't just order takers, they considered themselves consultants, with a mission to help companies reach their business goals first, before selling them anything. That meant being more knowledgeable about their company than even most of the internal employees, and working with the "clients" (not "customers") to craft the right messaging, and adopting a win-win strategy.
Lesson for Today: Don't just sell from a menu of ad units. Really try to understand a company's approach, prospects and customers, and craft custom proposals to help those companies be successful. Adopt creative approaches, and do your homework.
6. Create a sense of Exclusivity: At PC Week, we had a rumor column on the back page that, in its heyday, rivaled anything Valleywag ever uncovered. Written by the mysterious "Spencer F Katt", the column, the mystery and the insight created a clubby, insider sheen across everything we did. That aura of exclusivity was enhanced by the regular "Katt" parties held annually at all the top industry conferences. Only sources and tipsters were allowed inside, and the parties were routinely packed to the gills with industry luminaries, including Bill Gates, Eric Schmidt, Scott McNeely and many others.
Lesson for Today: Create an inner circle of your biggest fans. Invite them to special meet-ups, give them VIP access when you can, create special shirts, or even a custom newsletter or invite-only Facebook group. Give free membership to a small, core group, and charge everyone else who wants in.
7. Community Matters: This should be no surprise today, but even before the internet, we had a super-strong community at PC Week. Our CompuServe boards were full of readers and reporters, we had big booths at all the major technology trade shows where we encouraged our readers to come hang out, and we really tried to foster a sense – in every story – of belonging to a smart and exclusive community that was changing the world.
Lesson for Today: Community sits at the center of free. A passionate, committed fanbase that talks to each other, and you, will help you create a better environment for advertisers, upsells and add-ons.
(this post also appeared on Jack Myer's Media Biz Bloggers site)