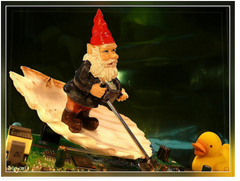 See this story from NewTeeVee, reporting on how CBS head-honcho Les Moonves called internet video "a lab for our TV network", and a place to test out programming ideas.
That's just wrong-headed, old media thinking.  True success with Internet video means thinking of it not as a farm team for existing media (broadcast/cable), but as a new way to communicate, a new medium with its own story-telling arc, rhythm and feel.
If you're just testing what will ultimately end up being 22 and 44 minute television shows, with 3-7 acts and plenty of time for commercial breaks, you're doing it wrong.
At Revision3, we think different.  Our end goal is to create great programming that lives and dies on the Internet. Success, for us, is predicated on Internet viewership, not on some eventual broadcast or cable deal.
Check out Diggnation, or SYSTM.  Would those shows make it on TV?  How about Scam School?  Maybe as a vignette here or there, but not a repeatable segment.
Even Web Drifter, which was originally designed for Comedy Central, is at its core a great web program.
Moonves and I agree on at least one thing – Internet video won't kill broadcast or cable, it's an additive thing.  But it will develop into something entirely different.  And true success will be found by those who embrace the vagaries of the media, not try to cow-path an old media vision into a new media landscape.
It always makes me happy to see MSM miss the boat when it comes to new media like this.   They're just going to need us even more once they realize how completely they've screwed it up.
Comments, as always, welcome.