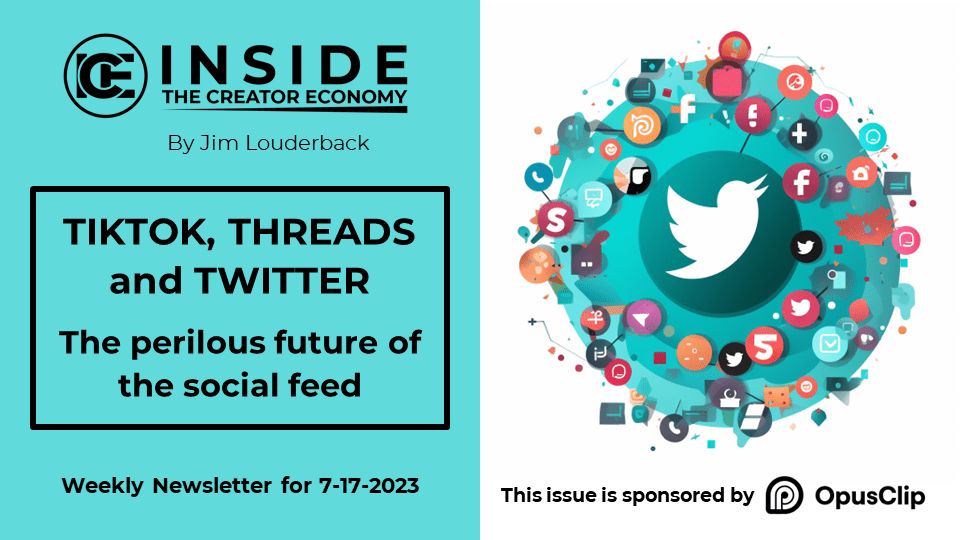 This Week: Lessons for TikTok from Twitter's reinvention, why AI won't cause massive unemployment, 6 key creator business models and more. And read to the end for a cool tool to upscale your LinkedIn profile! Plus, welcome new sponsor Opus Clip – a great way to quickly turn podcasts and YouTube video into vertical bite-sized shorts. It's the third week of July 2023 and here's what you need to know.
A Requiem for Twitter – but Perhaps Also for TikTok: Analyst extraordinaire Eugene Wei is back, this time writing about the death of the Twitter feed and the future of social feeds too. It's the most profound eulogy for a social graph you'll ever read. But more than just pining for the golden days, it explores the inner workings of today's feed-based social platforms and unintentionally highlights why TikTok will never make creators real money. While lamenting Twitter's new interest-based For You Page, he inadvertently discovers TikTok's Achilles heel: "Even TikTok sometimes seems to misunderstand that its strength is its purity of function as an interest/entertainment graph." Wei argues that TikTok's brilliant algorithmic feed is ideal for creating entertaining individual channels for billions, but "much less well-suited towards social networking." My take away? Stop frothing about TikTok's inability to share revenue. Instead, we're better off with a Reagnesque "there you go again", topped off by a rueful SMDH. The good news is that Twitter's demise of means more frequent insights on Wei's Substack, which we can all applaud.
The Social/Communications Map of 2023: One of my other favorite thinkers, Stratechery, used Wei's post as a jumping off point to reimagine how social platforms have evolved and why the algorithmic feed now dominates. It's required reading if you want to understand the evolution and future of social platforms. It explores why Instagram when from a follower focused feed to an algorithmic one, and why Threads will never really be Twitter. And finally why we're unlikely to return to the follower-based model for today's popular platforms.
Twitter Starts Paying Creators: On the plus side for at least some creators, Twitter started paying out of what looks like a $5M fund. It's only available to those who pay for verification, but early payouts are in the 5-figure range for some creators. It will likely incent those creators that are driving big audiences and fit Twitter's editorial model. But the incentive is to drive long conversations, so expect more polarization. Related, Mr Beast giving away some of his newly acquired Twitter largesse.
6 Key Business Models for the Creator Economy: Inspired by VidCon, I've been thinking through business models serving/selling to creators. I posted about it last week. Part 1 looks at transactional models, Part 2 focuses on emerging invest-in models. I think we're seeing a transition from the former to the latter, in part because creator businesses don't follow the traditional SMB arc. Let me know what you think, and whether this is too simplistic or if it makes sense. Related, interview with Slow Ventures GP Sam Lessin, highlighted as one of the key "invest in creators" funds.
Why AI Will Lead to a Productivity Boom: Another great thinker, Benedict Evans, just masterfully explained why generative AI is the next step on the automation continuum – which includes railroads, the adding machine, the PC and much more. Important concept: the "Lump of Labor Fallacy" and why work is not a zero-sum game – which means AI won't dissolve our jobs forever. Evans also restates Amara's Law, reminding us that even revolutionary change takes years to play out. It's also why I'm so excited about this week's sponsor, Opus Clip (see below), which smartly uses AI to expand creator capabilities.
SPONSOR: Opus Clip Upgraded Its Video Repurposing AI and the Creator Economy Is Already Hooked
Opus Clip V1.5 doesn't just turn your long videos into viral shorts with one click, it clips with style! That means a 63% increase in quality clips with compelling headlines and subtitles to match. Sign up with your email to get 120 minutes free and watch Opus Clip work its magic on your videos.
QUIBIS: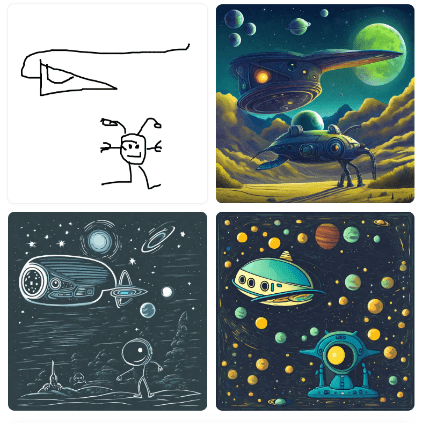 CRYPTIS & GENIES
Tip of the Week: Top creator Adorian Deck lays out his "go viral" system – it's all about catching the eye and activating emotions.
Also random, but if you are having trouble writing your LinkedIn bio, check this out – I put Simplebio to the test and it worked well.
Newsletter Spotlight: There are so many good newsletters out there, you could spend all day reading them. But one of my favorites is ICYMI from Lia Haberman. She covers the creator economy in a breezy and friendly tone – and breaks big stories too. Her current issue has a great interview with Taylor Lorenz.
Thanks for reading and see you around the internet. Send me a note with your feedback, or post in the comments! Feel free to share this with anyone you think might be interested, and if someone forwarded this to you, you can sign up and subscribe subscribe on LinkedIn for free hereon LinkedIn for free here!
If you're interested in working together as a sponsor to reach the leaders in the creator economy, check out Inside the Creator's sponsorship packages and/or email me at jim@louderback.com
And don't forget to listen to The Creator Feed – the weekly podcast Renee Teeley and I produce – get it on Apple Podcasts, Spotify or Stitcher!