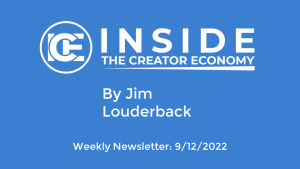 9-12-2022: Here's what's new and what caught my eye last week :
The Most Important Metrics Across 7 Social Media Platforms: Overwhelmed by KPIs? There are tons of metrics available, but only a few truly matters. The problem? They vary in importance from site to site – and they are often hard to find. Kudos to SEMRUSH for not only identifying the top metrics but explaining both WHY they are important and WHERE to find them across 7 top platforms including YouTube, Instagram, TikTok and LinkedIn. Super helpful.
How to Dominate YouTube Shorts: Wondering where to start with Shorts? Already posting but need help? YouTube to the rescue with a new super-helpful guide to Shorts, from best practices to publishing tips and much more. Even if you're already getting millions of Shorts views, you'll find something worthwhile inside. And for everyone else it's a must read. Download it here.
How to Dominate Facebook and Instagram Video: YouTube isn't the only one offering tips, tricks and secrets. Facebook's latest post explains how to optimize your video to appease the algorithms. It's a less glitzy, but arguably more complete look than the Shorts guide highlighted above. Also a must read for creators.
The Unexpected Consequences of Mr. Beast Burger's New Store: You likely saw the incredible pictures from the launch of the first Mr. Beast Burger restaurant in New Jersey's mall vortex. Mashable talked with some of the 10,000 fans that showed up to find out why they waited overnight (hint, to meet the guy, not eat the meat). A few days later less than stellar reviews started showing up. But however incredible the opening day crowds were, I'm concerned. First, Mr. Beast could have drawn 10,000 fans to a free performance at the Meadowlands football stadium next door without the promise of a fatty snack. And yes, Mr Beast's celebrity will continue to drive burger sales for a long time. But the quality issues worry me. It's not just the swamplands of New Jersey, his ghost kitchen burgers have also been roundly panned across social and traditional media. And that has me concerned for any creators producing their own physical goods. At least Emma Chamberlain's overpriced coffee is quite good, meaning that fans who pay the premium get a great product. If quality problems doom Mr. Beast Burgers the fallout will likely damage a wide swath of the creator economy. At least his chocolate bars are pretty darn good. Also, did anyone else notice the irony behind Jimmy Donaldson selling charred meat patties next door to another famous Jimmy's rumored final resting spot?
A Cynical Look at Forbes Top Creators List: Lots of folks went gaga over Forbes top 50 creator list, with breathless accounts of the 50 creators (including one dog!) plastered across social and newsletters. On one hand I'm happy when any mainstream media focuses on the creator economy, but this list seems more self-serving than most. The criteria for being included? "Money. Fame. Moxie". Hardly an unbiased selection criterion. The underlying motivations behind the list? To bring in big bucks from sponsor Verizon, and to leverage the award to secure speakers for its creator economy summit in New York last week. Speakers included Charli D'Amelio (#2), Michael Lee (#24) and Vivian Tu (#50). Too bad Jimmy Donaldson (#1) couldn't stop by following his Mr Beast Burger launch just across the Hudson River. And I wish it had been less Eurocentric – a quick scan showed that only Elsa Majimbo (#49) and Camilla Coelho (#30) originated outside the first world shroud. Where was JuegaGerman, BB Ki Vines, Whindersson Nunes, Mo Vlogs, Yuya or Ming Wei (to mention just a few)?
QUIBIS:
CRYPTIS:
Tip of the Week: Today's tip comes from Jordan Mauriello, founder and CEO of branded content studio MoreYellow.
When selecting talent for your campaign, look at average views past the last 30 days versus looking at their follower or subscriber count. There are a ton of awesome channels out there that may have under 100K Subs, but they're getting over 100K average views. You don't want to just look at the last couple of videos to get their average view count as a lot of creators' views accumulate over 30 days, depending on how often they post. 
See you around the internet, and feel free to share this with anyone you think might be interested, and if someone forwarded this to you, you can sign up and subscribe on LinkedIn for free here!