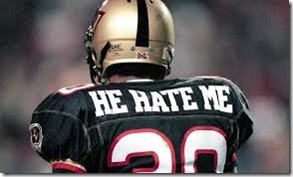 Jon Rettinger must hate me.  I was down in his offices a few weeks ago, talking about how TechnoBuffalo and Discovery can work more closely together when he spied my poor Nexus 5 phone.  Its screen had been tragically cracked, and looked about ready to die.
(Pro tip:  don't get a tight-fitting hard-shelled case for your Nexus 5 phone.  According to an LG product manager I talked to at CES the lateral, twisting force used to install and remove the case puts too much stress on the supposedly unbreakable Gorilla Glass screen, leading to cracks just like I'd experienced.  Setting aside the irony that my protective shell had indirectly caused my cracked screen, apparently softer, more rubberized cases are much safer).
Jon charitably offered to lend me a phone or two while I sent the Nexus back to have its screen replaced.  He waved his hand over his closet of test units, and selected a Blackberry Q10 and the Nokia Lumia 925.
You're on T-Mobile," he explained, "and these should work just fine.
At first I was excited to try both phones.  I've sworn off the iPhone due to an irrational fear of being sucked in and handcuffed by the Apple Way, but had yet to try these new operating systems.  I vowed to give each at least a week, to really be able to pass fair judgment.
BlackBerry Q10
I'd been a satisfied Blackberry user up until about four years ago, so I decided to give the Q10 a try first.  And at first, I was happy.  It was like cozying up to an old girlfriend, I already knew her peccadillos and foibles, and enjoyed tinkling a real keyboard for the first time in years.   The device itself felt solid and I liked the addition of a real touch-screen above the physical keyboard.
Alas the honeymoon was short-lived.   I started missing the bigger screens used by more modern smart phones when I ventured beyond email.   And even that much vaunted email application had fallen behind Android – deleting a series of messages, for example, required three key-presses or screen touches to move from one message to the next, compared to just one on Android.
And in what would become a theme, I was disappointed by the lack of some of my favorite apps, including SiriusXM and Waze.   Although I might have been able to survive without satellite radio, the lack of Waze was a real non-starter, as it had become indispensable for avoiding traffic on my many recent trips to Los Angeles.
But the kicker?  I spied myself in a mirror while tapping out a message on that great keyboard and realized that I just couldn't carry a Blackberry phone – even if it had all the apps I needed.  I live and work in the San Francisco bay area, and run a new-media group staffed primarily by millenials and hipsters.
I get enough grief already – although it has waned considerably – by my refusal to embrace the holy Apple religion.  Android is at least acceptable to these Silicon Valley tastemakers.  But Blackberry?  I might as well wear a T-Shirt to the office that said "Old and In the Way."   Nothing screams "this is your Dad's phone", and "I am a corporate drone" more than the iconic Blackberry.  I lasted three long-weekend days before moving on.
Lumia 925
After the Blackberry, the Nokia 925 felt like going home – if someone had rearranged the furniture and changed the locks.   I loved the large touch screen, and the physical characteristics at least didn't scream "fuddy-duddy".  But even this long-time Windows user found it hard – at first – to get started.
But I soon started to pick up the odd operating system conventions, and soon I'd configured the phone to follow my lead.  I was initially upset that I couldn't replace the stock soft keyboard with  a custom model.
I'm a big fan of "Thumb Keyboard 4" on Android, because even though I have small hands, if my thumbs were longer I'd rival Sissy Hankshaw for hitchhiking prowess.  But I became increasingly impressed with Windows Phone's adaptive keyboard.  It may have been all in my head, but it really did seem to start limiting errors and improving my poor typing.
And the camera really was great.  The pictures I took were amazingly beautiful, and were easy to share on Facebook and Twitter.
Unfortunately the app shortage was even more acute on the Windows phone. Waze was there, but so many others were missing.  I found myself really pining for SiriusXM, Nest, Sonos, Feedly and many other tools that make my mobile life so much easier.   And since I was travelling during my tests, I really missed one of my new favorites – "Field Trip" – from Google.  But I was really disappointed by the terrible audio support on the phone.  Although Microsoft claims you can just drag and drop from Windows to the phone, I couldn't get that to work – let's call that user error.  But the lack of support for "FLAC" audio files was the real problem for me.  I encode much of my music in this lossless format, and it's unacceptable for a modern computing device to eschew this format.
So after a few days on Windows Phone, also, headed back to the closet.  But before I locked it away for good, a notion struck me:  this phone would be perfect for my wife.  She'd been using a really old Android phone for the last two years, and had been nagging me about an upgrade.  And she needed just a few things out of her phone:  email, Facebook, photos and basic calling features.  And it had to be easy to use.  And at all these, the Lumia 925 excelled.   I set it up for her, and she's been happy as a clam the last few weeks.  Well, at least until a few days ago when the 925 inextricably stopped recognizing her SIM card.  It wasn't the card – a new one was also rejected.
I know I'm going to regret this – but while exploring repair options I gave her the Blackberry Q10.   I'm going to hear about this one in a day or two, I know.  The Lumia 925 is a strong device, particularly for basic use.  But the Blackberry Q10 really does feel like an anachronism – even for my less than tech-savvy wife.