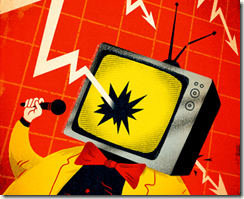 This is part 2 of my six part series reporting and commenting on what the top media and technology execs had to say at two investor conferences. Today, Cable TV on the Internet – and tomorrow we'll be talking about the ad market.
One of the more interesting themes of the DB media conference focused on how cable networks make money – and how they'll continue to survive as everything starts being distributed through the Internet. Discovery, Scripps, ESPN, Turner and others tend to make 50% or more of their money via affiliate fees – a fixed amount that the cable or satellite providers pay them for every subscriber. These can range from a few pennies to more than $3 for ESPN.
Jeffrey Bewkes, CEO of Time Warner, has been promoting the idea of streaming your subscribed cable channels over the Internet. "We think.. everything on television should become available to you on broadband for free. You should be able to watch TNT, MTV, everything on demand." He envisions the Internet as a huge video on demand box, letting you rewind, fast forward, even "take it with you on a mobile device. "
The technology, according to Bewkes, exists today. "It's easy to do, HBO has already done it." He publicly called for every satellite and cable distributor to offer the same stuff on broadband. "the only condition is that everyone that gets it should be a multi-channel TV subscriber", which covers about 90% of the households in the US. Turn it around, and according to Bewkes, " Almost 100% of people with broadband are video subscribers.
Viacom's Dauman agrees "are working with several operators with authentication", to make that happen. But "it has to be seamless for consumer, you can't type in your PIN every time" you want to watch MTV or Nick.
My take? It's a slippery slope. We're already seeing a significant fraction of people abandoning cable (ie multi-channel in Bewkes' parlance) to stream everything via the Internet. Once you can get all your 120 channels on demand via the Internet, to any PC, phone or set top box, the whole concept of programming packages goes out the window. Why pay for a bundle of a hundred channels when, according to Bewkes, we typically only have five or ten favorites". And when consumers can just opt to pay for their favorite channels, that puts half of most cable network's revenue at risk. I might spend a buck a month for Discovery, but I'm not going to pay for Animal Planet or Discovery Health. Similarly, I'll pay a quarter for Nickelodeon and food, but not MTV or DIY. And that's going to mean real pain for many media companies. I say bring it on – but be careful what you wish for.