(note, this post also appeared on Jack Myers' MediaBizBlogger Network too)
A few weeks ago, I was seriously considering picking up a few cases of Murphy-Goode wine. Now, I wouldn't touch them with a ten foot pole.
And today, many other internet-connected folks feel the same way I do. It has nothing to do with vintage, TCA or bottle-rot. Nope, it's due to social rot instead – and Murphy-Goode's tone-deaf marketing folks are to blame.
Back in June, they had a clever idea to try to promote their wines to a younger, internet-savvy audience. "Let's do a star-search for a new spokesperson", they decided, call them a "lifestyle correspondent", and use the power of the internet to select the winner, build awareness, buzz and good will.
Applicants were asked to post a video to YouTube, explaining why they would make the best candidate. Murphy-Goode encouraged fans to vote on their favorites, and the winery promised to first select 50 finalists, and then bring the top ten up to Healdsburg for a final set of interviews.
Over 2,000 people applied, and more than 900 videos applications were posted on YouTube. Thousands of votes were cast, with ex-TechTV and Revision3 host Martin Sargent the clear winner. His submission received 6,600 votes, more than 3 times as many as the second place video, and more votes than the next 4 or 5 candidates combined.
But when the winery finally announced their top 50 candidates, Sargent was conspicuously absent from the list.
His friends, followers and fans were aghast. How could the top vote getter – by a long shot – been squeezed out of the finals?
Across the web, it quickly got ugly. First Sargent's fans started lambasting the Murphy-Goode winery, and then his influential friends picked up on the injustice. Popular web host Leo Laporte told his 136,000 listeners about the travesty, as did Digg founder Kevin Rose (1,061,379 twitter followers). Kevin followed that up by spending nearly 10 minutes talking about the issue with his co-host Alex Albrecht on the popular Revision3 show Diggnation. The story ended up getting nearly 2,400 Diggs on the popular social news site Digg.com – which was enough to put it into the top ten, where it was seen by a significant fraction of the site's 39 million monthly unique visitors
There was more negative chatter around the internet - a lot more. And instead of improving the winery's perception among internet-savvy drinkers, the opposite appears to be true. Search for "Murphy Goode" on Google, and you'll find two of the top ten results are negative stories about the failed campaign, with headlines that say "Murphy-Goode's job contest turns sour", and "Murphy-Goode says #1 spot isn't good enough to make top 50". And nearly a third of the 122,000 search results for Murphy Goode are, in fact, negative stories spawned by the Martin Sargent debacle.
Some of the more memorable stories include "Murphy-Goode Winery is run by dicks" , "Murphy-Goode has ROBBED Martin Sargent" and "Careful Murphy-Goode, Social Media Just Might Spit Wine in Your Face". These, obviously, are not what the marketing department intended. Nose around the web for Murphy Goode, and you'll likely run into one of these negative stories. And if you're part of the millions that follow Martin and his friends, you'll probably never buy a Murphy-Goode wine again.
What happened? How did such a promising campaign turn so ugly? Here are my 5 lessons for how to keep your social media campaign from turning sour.
Respect the Wisdom of the Crowds: If you're going to solicit entries from the internet, and then ask people to vote, then you need to at least pretend to abide by their selection. Murphy-Goode built a framework that would have let them finesse this. All they had to do was put the top ten vote getters into their top 50. Even if they had zero intention of ever giving Martin or the other nine a job, they should have – at a minimum – given them some recognition for winning the popular vote.
Know Your Web Stars: You may have never heard of Martin Sargent. But he's an extremely powerful web celebrity – both because of his own following, and his influential friends. If Jon Stewart, Tom Brady or Britney Spears had entered - or even Wine Spectator editor James Laube — you can be sure they would have been treated with kid gloves. Martin got snubbed and snubbing sucks. But Martin was powerful enough to get a (well deserved) revenge.
Monitor Constantly: While running a social media campaign, keep a close eye on what the social-sphere is saying about your brand. Use Twitter search tools, Tweet Deck, Trendrr, backtype – among others – to keep track of how your campaign is doing. And when you notice something going awry…
Fix it Fast: As soon as "Martin-Gate" began to spread around the web, Murphy-Goode should have jumped in and fixed it. Perhaps they could have added a 51st finalist to the list. Or maybe they could have expanded the competition to end up with two winners, a winery choice and a people's choice. Rapid action could have saved this campaign. Even an apology and am "I'm Sorry" would have gone a long way to repairing the winery's reputation. Instead, company representatives responded with lame platitudes like "You're too famous" and called Martin overqualified for the job. That just served to fan the flames – particularly because one of the top ten finalists was Rachel Reenstra, former Animal Planet and HGTV show host.
Don't be half-assed: But here's the biggest slap to the face of everyone who created, watched, voted and even paid attention to this online kerfuffle. As the story got out, it turned out that some of the candidates for the temporary position were actually sourced by recruiters, who told them that "the online votes were relatively unimportant." That's the worst thing that ever could have gotten out. Today's engaged social network users are no less passionate than the millions of Iranians that flooded the street when their votes were ignored. And they're far more connected as well. Be honest, be authentic and be real. Murphy-Goode, alas, tried to pull a fast one. But on the internet, it's extremely hard to be opaque.
Oh, and if you're looking for a creative, engaged spokesperson who really knows how to take advantage of social media, Martin Sargent is once again available. And if he enters your next on-line campaign, consider yourself warned. He knows how to win!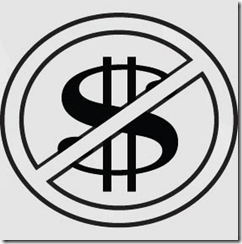 It's not like "free" is this brand new thing, created by the internet. And for all the hand-wringing going on about how free is decimating media business models, there are clear precedents for building free businesses. You just have to think beyond mass.
Way before there was a long-tail, smart media execs were building hugely profitable free businesses. I should know - I got my start working for one called PC Week. Hardly an anomaly in the business, PC Week was one of many free magazines available to industry professionals - a category called "controlled circulation"
As opposed to magazines that people actually pay for, these publications are available to subscribers who meet relatively stringent standards – i.e. controlled for that audience. When I first qualified for a free subscription, I had to work at a company with 100 or more people, and be responsible for buying, recommending or supporting five or more personal computers.
Over the years the requirements tightened, but the magazine remained free. It still is today, although it has been renamed eWeek. 400,000 people receive the magazine each week, and none of them pay a dime for it.
There are hundreds of controlled circulation magazines in the US, and they provide news, product reviews, information and much more to millions of mostly business readers each month.
Today's free-challenged media companies can learn a lot from the heyday of the controlled circulation business. Even in an age of abundance, there's a lot of money to be made in free – but it's not a mass play. Here are seven things I learned from the first "free" media company I ever worked at:
1. Aggregate Valuable Audiences: In our heyday, we were selling full-page advertisements for CPMs in excess of $200. Why? Because the stringent qualification requirements meant that each of those 250,000 readers controlled a large budget, and had big influence over what computer products were purchased. Advertisers were guaranteed to get their message in front of their targets - and only their targets.
Lessons for Today: Building mass media products designed to appeal to a non-differentiated audience today? You'll have trouble with free. But if you can build media products that appeal to a valuable subset, one that advertisers will pay big bucks to reach, then you have a shot at a profitable business.
2. Content Adjacency Matters: Although we would occasionally try to bring in non-endemic advertisers, PC Week was about corporate computing technology - and almost every advertiser we had built computing hardware, software or services.
Lesson for Today: Your most likely revenue targets are those companies that produce products and services that relate directly to whatever you're covering. When someone is reading, watching, or learning about a particular topic, they are far more receptive to advertising that relates to that same topic.
3. Speak Softly and Build a Big Database: In exchange forreceiving something of great value for free, we required subscribers to answer a long list of questions about who they were, what they purchased and where they worked. Forget behavioral targeting, at PC Week we knew all about our audience - and we knew it was true (for the most part), because they told us so directly. We didn't have to infer their intention by spying on their browsing behavior. That database then because a source of additional revenue - we mined it to create higher-value services, like seminars and add-on products, targeted even more narrowly, and capable of delivering thousand dollar+ CPMs.
Lesson for Today: Let your audience know that you are giving them something valuable, and then get them to give you something in return: personal demographic data. Build your database, and then use it to create additional, targeted products to generate even more money.
4. Useful Advertising: In survey after survey, our readers would always tell us that they found the advertisements as useful as the news stories, product reviews and opinion columns inside the magazine. The best advertisements were those that provided detailed product benefits, specifications and success stories. And our readers loved them.
Lesson for Today: Split second banners and overlays won't be as effective as deep, rich marketing and branding messages integrated into your content.
5. Consultative Selling: Our sales reps were often derided as "Stepford Reps", because they all had the same approach and patter. But surprise, surprise, those Stepford Reps are now among the most successful new media execs; their ranks include MySpace's Owen Van Natta, Tim Castelli and Suzie Rider of Google/YouTube, former Yahoo COO and current Guitar Hero CEO Dan Rosensweig, CBS Interactive chief Joe Gillespie, Huffington Post CEO Eric Hippeau and many, many more. What sets them apart? They weren't just order takers, they considered themselves consultants, with a mission to help companies reach their business goals first, before selling them anything. That meant being more knowledgeable about their company than even most of the internal employees, and working with the "clients" (not "customers") to craft the right messaging, and adopting a win-win strategy.
Lesson for Today: Don't just sell from a menu of ad units. Really try to understand a company's approach, prospects and customers, and craft custom proposals to help those companies be successful. Adopt creative approaches, and do your homework.
6. Create a sense of Exclusivity: At PC Week, we had a rumor column on the back page that, in its heyday, rivaled anything Valleywag ever uncovered. Written by the mysterious "Spencer F Katt", the column, the mystery and the insight created a clubby, insider sheen across everything we did. That aura of exclusivity was enhanced by the regular "Katt" parties held annually at all the top industry conferences. Only sources and tipsters were allowed inside, and the parties were routinely packed to the gills with industry luminaries, including Bill Gates, Eric Schmidt, Scott McNeely and many others.
Lesson for Today: Create an inner circle of your biggest fans. Invite them to special meet-ups, give them VIP access when you can, create special shirts, or even a custom newsletter or invite-only Facebook group. Give free membership to a small, core group, and charge everyone else who wants in.
7. Community Matters: This should be no surprise today, but even before the internet, we had a super-strong community at PC Week. Our CompuServe boards were full of readers and reporters, we had big booths at all the major technology trade shows where we encouraged our readers to come hang out, and we really tried to foster a sense - in every story - of belonging to a smart and exclusive community that was changing the world.
Lesson for Today: Community sits at the center of free. A passionate, committed fanbase that talks to each other, and you, will help you create a better environment for advertisers, upsells and add-ons.
(this post also appeared on Jack Myer's Media Biz Bloggers site)