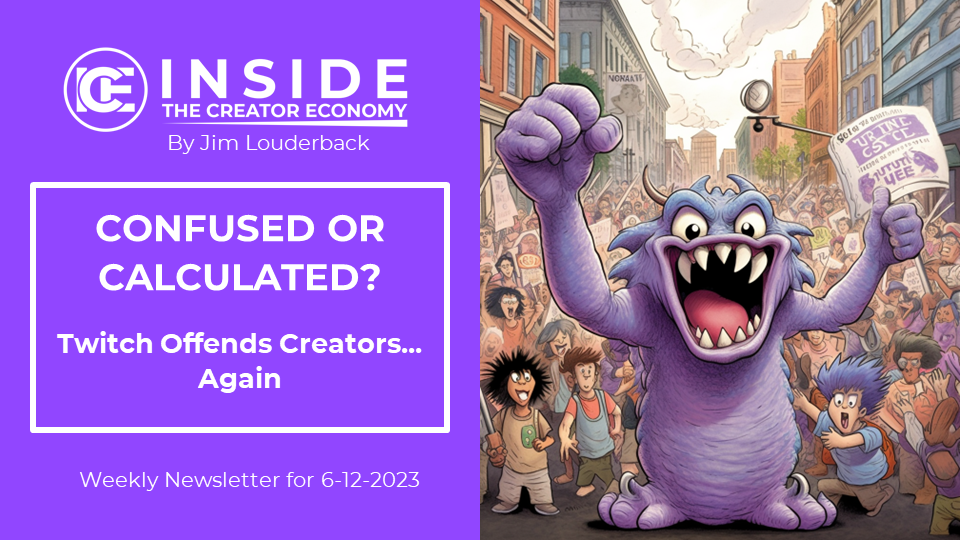 This Week Twitch turmoil, WTF Baby Gronk, Shorts improvements, what Apple's vision pro means for creators and much more. Hi, I'm Jim and I helped build VidCon, OG-MCN Revision3, PC Magazine and TechTV. It's the 2nd week of June and here's what you need to know.
Twitch Enrages Creators Again: Back in 2010, the YouTube network I ran – Revision3 – had a legal agreement that allowed us to run burned in sponsor ads on our videos (negotiated by the amazing @Damon Berger). Other networks wanted to do the same, but YouTube wouldn't let them. And then they put the legal screws on us to try to box us out too. Luckily common sense prevailed, and brand deals provide creators with much of their income. Most platforms encourage it. But instead of learning from history, Twitch decided to repeat it – to disastrous results. After the rapid roll-back, I assume this was more of a comms failure rather than an actual return to 2010, but the result was the same. It just added to the anomie and distrust creators already felt towards the platform. A suggestion: Maybe Twitch needs to pressure test these changes with a trusted creator council before launching. And if one already exists, a compositional change might be appropriate. Also note that simulcasting was banned, and partner agreements torn up – and those changes stay (HT Publish Press – happy anniversary!).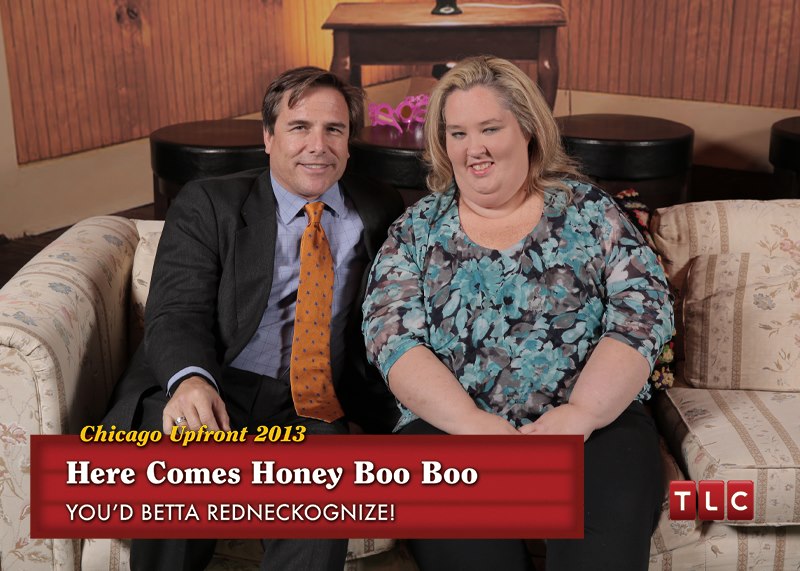 Here Comes Baby Gronk! Here's more than everything you need to know about Baby Gronk, Baby Diggs and the NIL-spawn Livvy. I really hope we're not seeing the next Honey Boo-Boo here, but in hindsight this should have been expected when NIL became legit. This unsettling interview with Baby Gronk's Dad ($) reminds me of that night I spent on the couch with Mama June in 2013. 2023's recipe for disaster: A "pretty good at this internet stuff" Dad with a 10-year-old "product". Can't we just let kids be kids?
There's a Light in the Darkness? We're five months into the Shorts monetization chapter, and it's mostly atrocious. However, there's a light (over at the Frankestein place). It's premium, which is delivering 5x the percentage revenue of long-form, according to Matt Gielen. And it looks like YouTube is even more committed to having Shorts become an entry point for search, as Google's DeepMind AI is now generating Shorts descriptions, promising to supercharge discoverability. But creators are still trying to figure out how it works. Matt Koval shares insight from his client work, where he mostly recommends putting Shorts on a separate channel from longer-form video. Perhaps there's strength in the community here, as YouTube's new #ShortsFriends initiative aims to connect creators to each other to jump-start growth. Hopefully the picture becomes clearer soon, so we can time warp back to when YouTube delivered meaningful revshare across all video formats.
How Apple's Vision Pro Will Change the Creator Economy: Lots of digital ink spilled last week on an expensive tech product that won't be available for a year. Ben Thompson's take is worth reading, while most of the rest was either breathless adulation or predictable predictions of failure. I'm reminded of Bill Gates' quote about how we overestimate short-term impact but underestimate the change 10 years later. Yes it's pricey, but $3,500 is relatively cheap for an Apple category buster: upon release the first Mac cost $7,000 in 2022 dollars, while the Apple Lisa – perhaps a better comp – would cost $30,000 today. A few thoughts on how creators will evolve in the long term:
Headcasting from events will become popular as we teleport inside our favorite creator's head at the Met Gala, Coachella, VidCon and other experiences.
Roblox creators find a lucrative new market for goods and experiences.
Superfan hangouts with creators become more intimate, personal, and engaging – and offer a new avenue for AI-based constructs to drive revenue.
Digital collectibles and badges take off (just don't call them NFTs).
A new class of creators currently suffering through middle school will dominate the Tubefilter top 50 by 2033.
For more on how I'm thinking about Vision Pro, check out this week's Creator Feed podcast here.
Don't Kill the Golden Archive! Insatiable demand for AI training data brought down the Internet Archive – and has also indirectly led to Reddit and Twitter charging for API access too. You can witness the Reddit impact today, as a 48-hour Reddit blackout is underway. It's the 2023 tragedy of the commons. Hopefully @Brewster Kahle and team will figure out how to grant access without breaking the system – and maybe even make some money too. Let's not inadvertently kill the things we love as we build the future.
QUIBIS:
CRYPTIS & GENIES
Tip of the Week: Phil Ranta with a great way to think about your social media use – less doom-scrolling and more research and meaningful interactions.
Research Study of the Week: Most creators know about AI, while around 2/3rds are using it in some way, according to a new study from tools vendor Lightricks. Despite wide usage, the study also reported widespread concern about AI – from deepfakes to copyright infringement. The study also looks at monetization – which appears to be up for most creators. This study was executed by YouGov, so it's likely more reliable than some of the others we've talked about. But the methodology is not well defined. Grade: B – Directional, not Predictive.
Where I'll be: Going to VidCon? See you there – I'm hosting and moderating sessions on both the industry and creator track! Also check out my "how to VidCon video", updated for 2023.
Thanks for reading and see you around the internet. Send me a note with your feedback, or post in the comments! Feel free to share this with anyone you think might be interested, and if someone forwarded this to you, you can sign up and subscribe on LinkedIn for free here!
If you're interested in working together as a sponsor to reach the leaders in the creator economy, check out Inside the Creator's sponsorship packages and/or email me at jim@louderback.com
And don't forget to listen to The Creator Feed – the weekly podcast Renee Teeley and I produce – get it on Apple Podcasts, Spotify or Stitcher!